September 2023: Palaw price plummets by 18%.
Carrot prices continue to rise.
In September 2023, the average cost of preparing palaw in Ashgabat was 69.1 Turkmen manat. This amount represented a noteworthy 18.5% decrease compared to the same month in 2022 when it was at 84.9 manat. Furthermore, there was a 1.4% increase from August 2023 when the cost stood at 68.2 manat. Prices have not only declined in Turkmenistan, but also on a global scale as well. According to the FAO's Food Price Index, global food prices exhibited an average year-on-year decrease of 10.7% in September 2023.
During September 2023, Turkmenistan observed price decreases in all products except for carrots when compared to September 2022 on a year-on-year basis. Carrot prices experienced a substantial increase of 62.7% in September 2023 compared to the same month in the previous year. For the remaining products, prices decreased, with the most significant decline being in the price of sunflower oil, which dropped by 44.6%. This was followed by decreases in the prices of wheat flour (-38.3%), rice (-21.6%), beef (-14.5%), and onions (-5.6%), as illustrated in Figure 1.
Carrot prices are still rising
Carrot prices continued their upward trend in September, building on a YoY increase of 51.5% in August 2023. In September 2023, carrot prices surged by 62.7% when compared to the same month in the previous year of September 2022. The cost of one kilogram of carrots increased from 3.4 manat to 5.5 manat during this period. When examining the month-on-month basis, carrot prices rose from 5.2 manat in August 2023 to 5.5 manat in September 2023, indicating a 7.4% increase. Please refer to Figure 2 for a visual representation of the price changes in carrots from September 2022 to September 2023.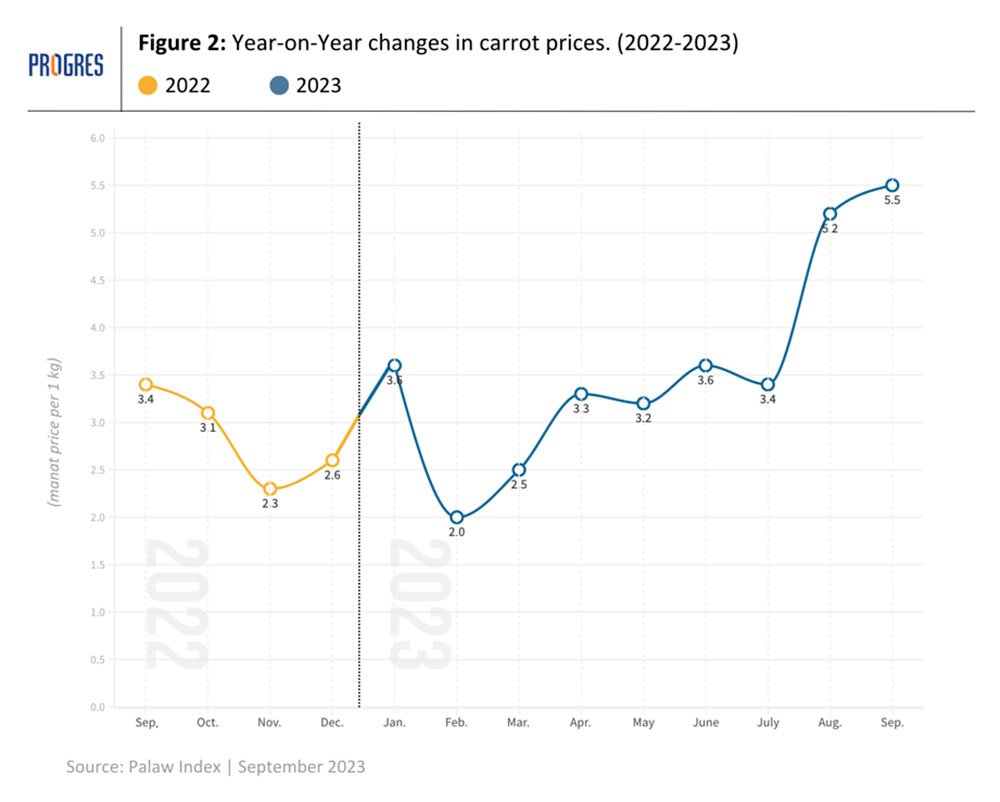 Turkmenistan does not make annual or monthly data on domestic carrot production publicly available. Nonetheless, it is worth noting that Turkmenistan does not depend on carrot imports to fulfill the local demand. Carrots in Turkmenistan are usually planted in early summer after the wheat harvest and are typically harvested in late autumn. As a result of the seasonal cycle, it is anticipated that carrot prices will likely decrease in the coming weeks due to the new harvest and the subsequent increase in supply.
Looking at neighboring countries, we observe a similar trend in carrot prices. In Uzbekistan, there was a 57% year-on-year increase in carrot prices in August 2023, and this trend continued with a 83% year-on-year increase in September 2023. Uzbekistan stands as the largest producer and exporter of carrots in Central Asia, traditionally not relying on carrot imports. However, due to lower-than-expected carrot harvests this year, Uzbekistan had to resort to carrot imports from Russia in recent months. According to preliminary estimates by EastFruit analysts, this year will witness a record volume of carrot imports in Uzbekistan. In Kazakhstan, carrot prices also experienced a 19.6% YoY increase in September 2023.
Correlation between palaw prices and the black market rate
Starting in April 2022, there has been an ongoing decrease in palaw prices. Initially, this decline was linked to the fluctuations in the USD/manat exchange rate on the black market. However, this connection appears to be weakening in recent months. Since January 2022, the parallel exchange rate has stabilized at around 19 manat, which has resulted in a reduced impact on palaw prices. Up to this point in 2023, the most significant factors contributing to the decrease in palaw prices have been the falling prices of sunflower oil and wheat flour.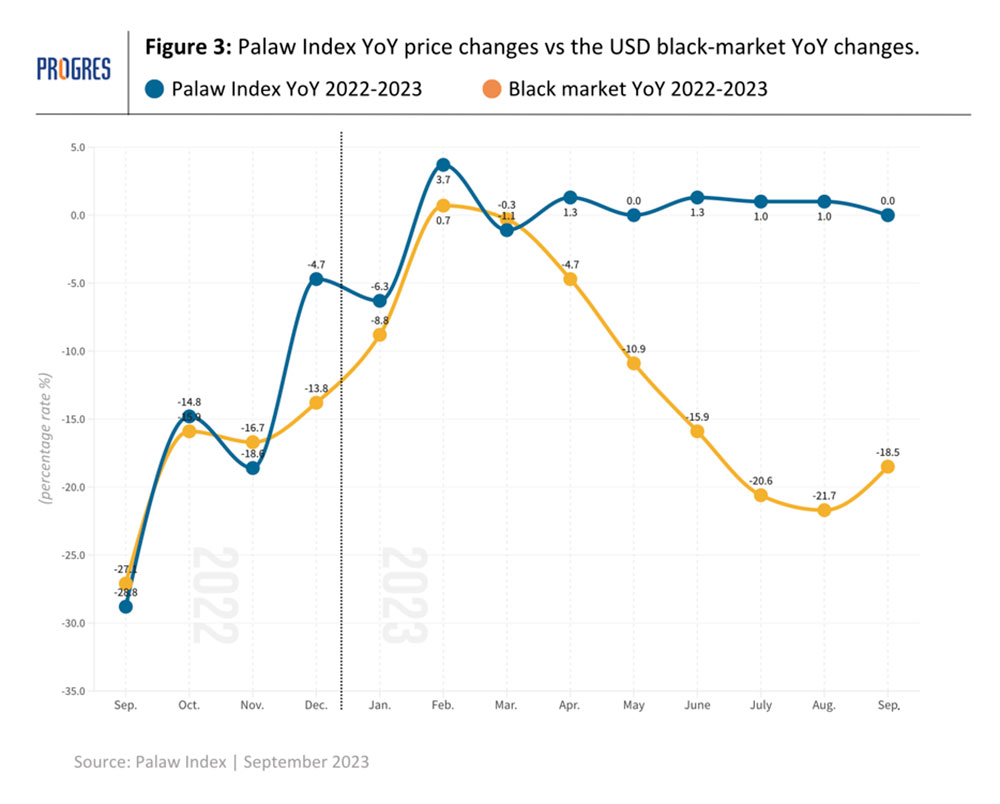 Methodology
Prices of ingredients in the Palaw Index are collected for 1 kg of onion, carrot, beef, rice, and flour, and 1 liter of cooking oil. Based on the methodology, in order to cook palaw for a family of four, we use 0.3 liters of cooking oil, 0.5 kg of onion, 1 kg of carrots, 0.6 kg of beef, 1 kg of rice, and 0.5 kg of flour in our formula. Please click here to learn more about the methodology of the Palaw Index.
Progres team strives to make Palaw Index reports as inclusive as possible by tracking the price changes of palaw in all major cities of Turkmenistan. Therefore, we kindly ask you to help us in collecting the prices by filling this out the form.