March 2023: the cost of palaw saw another drop in price.
Onion prices are still on the rise amid the low temperatures experienced in January 2023.
In March 2023, the average cost of preparing palaw in Ashgabat was 78.7 Turkmen manat, representing a 0.3% decrease year-on-year when compared to the corresponding period in March 2022 (78.9 manat). However, the cost was 1% higher month-on-month than the prices recorded in February 2023 (77.9 manat).
The price of onion and rice has gone up while the remaining products saw price declines on a YoY basis compared to the prices observed last March (2022). Onion prices rose 150.8% and rice saw a price increase of 24.3% YoY. Among products that saw price declines, the price of carrots dropped by 24.2%, wheat flour (-16.2%), beef (-15.4%), and sunflower oil got cheaper by 10.7% during the same period of time (see Figure 1).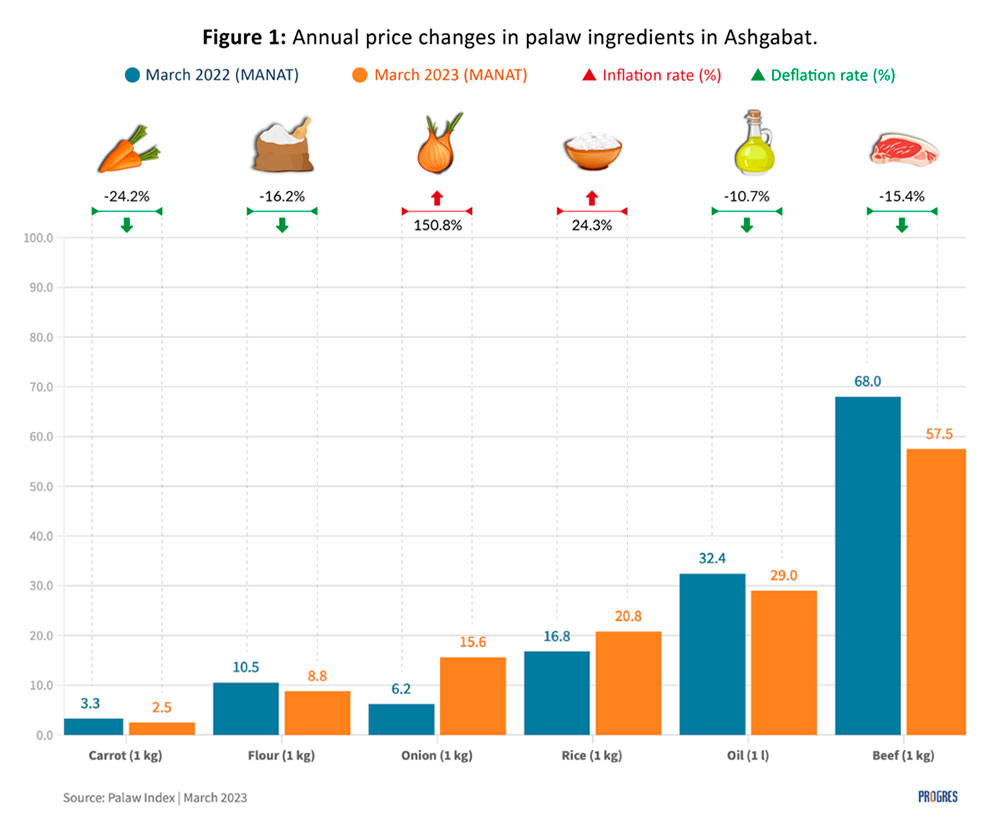 Onion prices saw an upward increase again
Prices of onion remain high with a 150.8% increase on a YoY basis following the extreme cold weather seen in Turkmenistan in January 2023. On a monthly basis, it got 7.2% more expensive from 14.5 manat in February 2023 to 15.6 in March 2023. We have written detailed explanation of possible factors behind increased onion prices in our previous two reports (see Palaw Index January 2023 and Palaw Index February 2023). Onion prices will likely go down next month amid the new harvests starting in April. See Figure 2 to learn the evolution of price changes of onions from January 2022 to March 2023.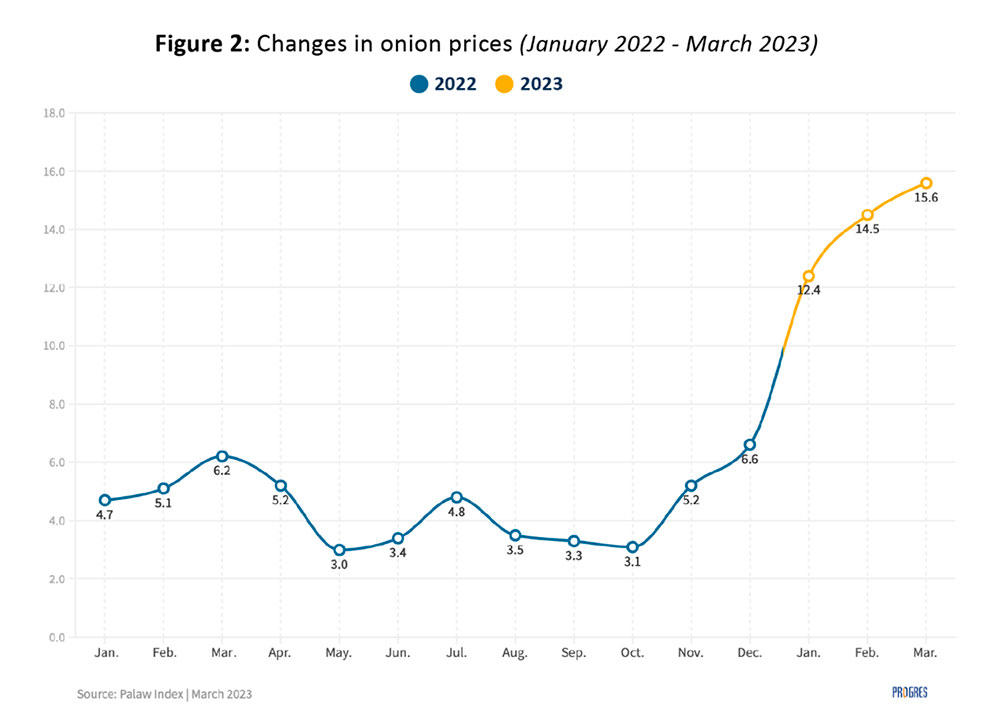 There have been waves of positive trends regarding the supply of onions in the Central Asian region. Kyrgyzstan and Uzbekistan lifted the ban on onion exports in March 2023. Moreover, the export ban on onions may be lifted in Kazakhstan as well, but the final decision has not been made yet. Originally, the export ban in Kazakhstan was going to expire on 28 April 2023. New harvests of onion in the southernmost region of Uzbekistan have already begun since the end of March and the new harvest of onions available for export is estimated to start around April 15-20, 2023. As a reminder, Turkmenistan has been importing onion from Uzbekistan in recent years, especially in the winter months.
Correlation between palaw prices and the black market rate
There has been a consistent decrease in palaw prices starting from April 2022, which can be attributed to the value of the USD in the black-market exchange rate. In March 2023, this trend continued with a 0.3% YoY decrease in palaw prices. During the same period, the manat/USD exchange rate in the black market also decreased from 19.6 manat in March 2022 to 19.4 manat in March 2023, representing a 1.1% decrease. Figure 3 illustrates the evolution of palaw prices in correlation with the USD exchange rate from March 2022 to March 2023.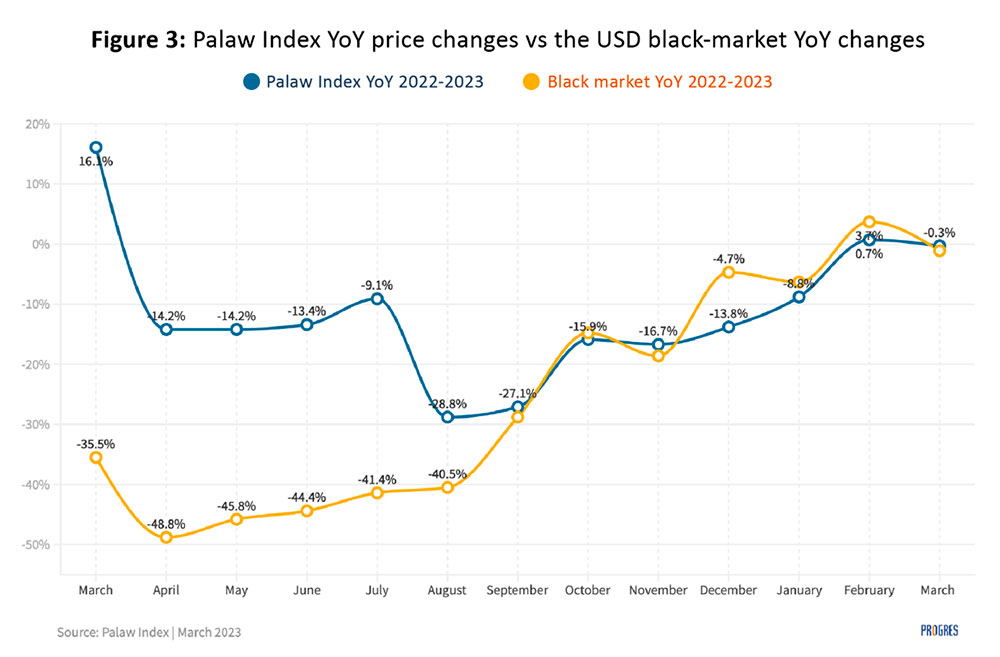 Methodology
Prices of ingredients in the Palaw Index are collected for 1 kg of onion, carrot, beef, rice, and flour, and 1 liter of cooking oil. Based on the methodology, in order to cook palaw for a family of four, we use 0.3 liters of cooking oil, 0.5 kg of onion, 1 kg of carrots, 0.6 kg of beef, 1 kg of rice, and 0.5 kg of flour in our formula. Please click here to learn more about the methodology of the Palaw Index.
Help with price collection
Progres team strives to make Palaw Index reports as inclusive as possible by tracking the price changes of palaw in all major cities of Turkmenistan. Therefore, we kindly ask you to help us in collecting the prices by filling this out the form below. Please note that this form is not asking for and is not collecting any personal information.