February 2023: the price of palaw increases for the first time since March 2022.
Prices of onion remain high in the aftermath of the cold weather in January 2023.
The average cost of cooking palaw in Ashgabat was 77.9 Turkmen manat in February 2023, which is 0.4% lower month-on-month (MoM) compared to the prices observed in January 2023 (78.2 manat) and 0.7% higher year-on-year (YoY) compared to the similar period last year in February 2022 (77.4 manat). In February 2023 palaw prices have increased for the first time since March 2022 on a YoY basis.
Looking at individual ingredients of palaw, prices of carrot dropped by 19.7%, beef decreased by 17.7%, and wheat flour saw a price decline of 8.0% YoY compared to the prices observed last year in February 2022. The remaining three products saw a price increase. While prices of sunflower oil rose by 0.8% and rice by 23.5%, prices for onion remained high in February with a 184.2% increase YoY (see Figure 1).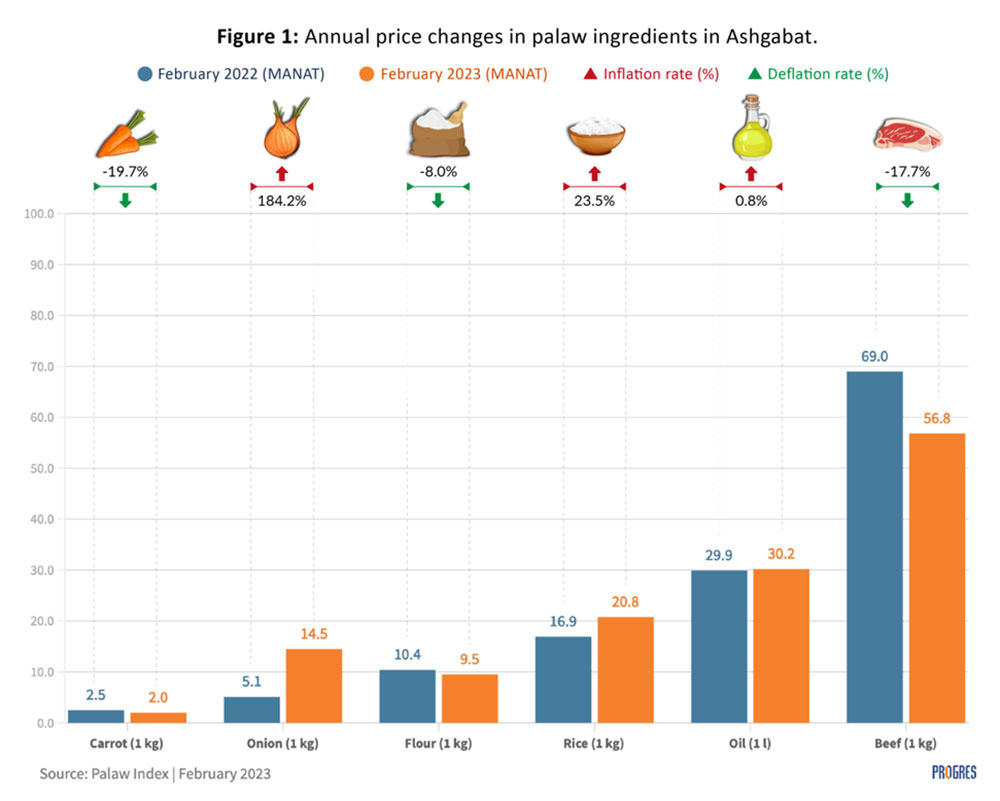 Onion prices remain high
Prices of onion started rising in January 2023 amid extreme cold weather in Turkmenistan, which damaged many crops, including onions. Hence, due to a lower supply of onions in the market, its price went up. In February 2023, its price increased even further with a YoY growth of 184.2% compared to its prices last year, in February 2022. On a month-on-month basis, onion prices increased from 12.4 manat in January 2023 to 14.5 manat in February 2023, which is a 17% uptake.
Although the weather became warmer in February, it will take time for the next harvest to arrive. Spring onions are usually sown from February to mid-March in Turkmenistan with harvests starting in April. Once new harvest arrives, it will increase the supply of onion in the market, which in return will make its price to go down.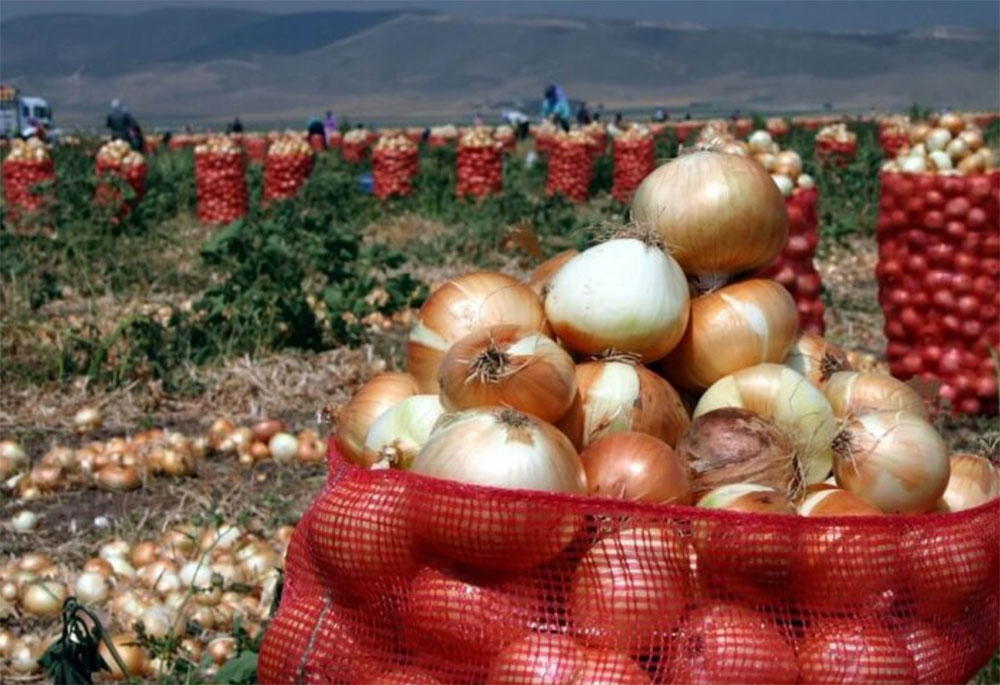 Photo: Business Turkmenistan
The immediate solution to tackle the rising onion prices would be to increase imports of onion from abroad. Turkmenistan imported onion from Uzbekistan in recent years, especially in the winter months. However, there is a deficit of onion in Uzbekistan at the moment due to the winter frost which damaged onion stocks in the country as some parts of the harvest were stored in the open air. As a result, Uzbekistan introduced a ban on onion exports since 20 January for the duration of 4 months. Fearing the shortage of onion in domestic markets, the remaining three Central Asian neighboring countries (Kazakhstan, Tajikistan, and Kyrgyzstan) followed suit by introducing bans on onion exports as of early February 2023.
Another large supplier of onion to Turkmenistan was Iran, whose share declined in the recent years. Iran is also struggling with high onion prices in its domestic market and the government of Iran imposed export duties for onion on 180% of its price. Such interventions will make Iranian onion exports really expensive for Turkmenistan to import. Azerbaijan and Turkey might be another large supplier of onions, however they also introduced restrictions on onion exports. Therefore, given the limited options of importing onions, onion prices will likely remain high in Turkmenistan until the next onion harvests starting in April.
Correlation between palaw prices and the black market rate
We notice a downward trend in palaw prices starting from April 2022, which is correlated to the value of USD in the black-market exchange rate. Palaw prices rose for the first time in February 2023 after a continuous decline occurring between April 2022 and January 2023. The decline in palaw prices since April 2022 is correlated with the black-market value of the USD/manat exchange rate. You can see the evolution of palaw prices together with the USD exchange rate from February 2022 to February 2023in Figure 2.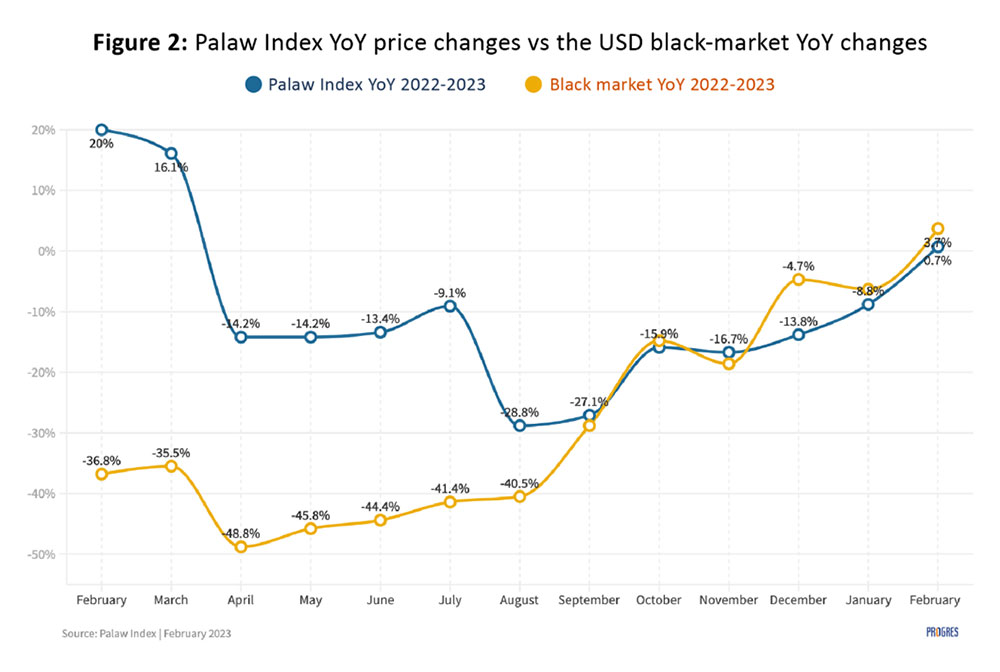 Methodology
Prices of ingredients in the Palaw Index are collected for 1 kg of onion, carrot, beef, rice, and flour, and 1 liter of cooking oil. Based on the methodology, in order to cook palaw for a family of four, we use 0.3 liters of cooking oil, 0.5 kg of onion, 1 kg of carrots, 0.6 kg of beef, 1 kg of rice, and 0.5 kg of flour in our formula. Please click here to learn more about the methodology of the Palaw Index.