March 2022: The price of palaw increases and reaches 79 manat
In March 2022, the average cost of cooking palaw in Ashgabat was 79 Turkmen manat, which is 2% higher month-on-month compared to February 2022 (77.4 manat) and 16.1% more expensive year-on-year compared to March 2021 (68 manat).
In March 2022, on an annual basis, prices for carrots decreased by 30%, while, prices have gone up for all the other ingredients of palaw: onion (38%), beef (33%), cooking oil (8%), wheat flour (5%), and rice (3%) (see Figure 1).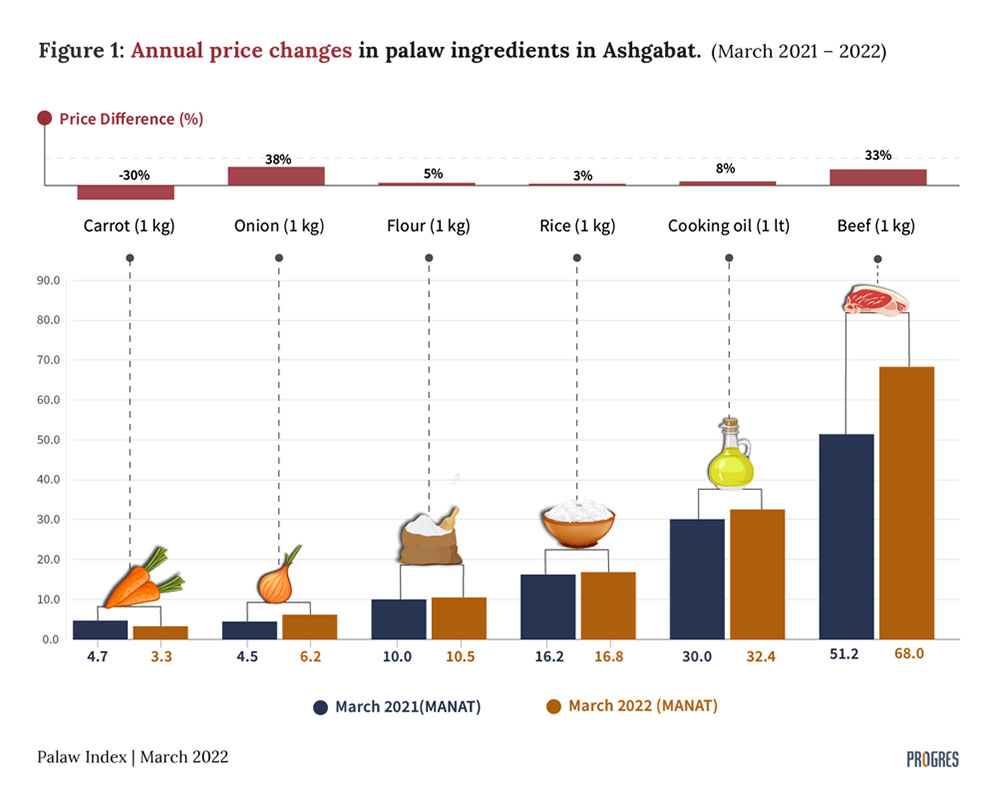 The highest price increase among palaw ingredients was observed in the prices of onion, which increased by 38% on an annual basis in March 2022. According to the FAO data, annual onion production in Turkmenistan was 88,671 tonnes in 2020, which is 0.3% lower than the production levels of 2019 (88,906 tonnes) and 4.6% lower than the previous 10-year average annual production between 2010 and 2019 (92,947 tonnes). Turkmenistan also exports onions to Kazakhstan but its volume is quite small amounting to just 30,800 USD per 2020 data.
Onions are usually planted in spring and autumn in Turkmenistan with no harvests taking place in winter. Spring onions are planted in March and harvested over the summer. Autumn onions are planted in September-October and harvested in late spring. The supply of onions goes down in the winter season, therefore, onion prices tend to go up from December to March.
Turkmenistan also imports onion from the neighboring countries, of which 86.8% of total imported onion comes from Uzbekistan, which amounts to 2.23 million USD (out of a total of 2.56 mln USD) as of data for 2020. The volume of onion exports from Uzbekistan to Turkmenistan is estimated at 19,500 tonnes for the period between the 1st of January to the 15th of October 2021. The average amount of imported onion from other countries in the previous 5 years between 2015 and 2019 was 6.4 mln USD, which is almost 3 times higher than the amount in 2020. No data has yet been released for 2021. Import prices vary depending on the value of USD in the black market exchange rate, as well as price changes in exporting countries.
Due to the Russia-Ukraine war, exports of sunflower oil from Russia to Turkmenistan might be disrupted. Domestic production of sunflower oil in Turkmenistan is low and Turkmenistan imports the majority of its consumed cooking oil from abroad. Russia is the largest supplier of cooking oil to Turkmenistan and Russia's share in total imports of oil in Turkmenistan is 88.4% as of data from 2020. Turkmenistan imported 15,500 tonnes of sunflower oil from Russia and it amounted to 23.7 mln USD in 2021, which was 41.5% higher in volume than in 2020. To maintain food security at home, the Russian government will introduce export quotas for sunflower oil from April 15th to August 31st, 2022 in the volume of 1.5 million tonnes. Therefore, we expect a low supply as well as an increased price of cooking oil in Turkmenistan starting from April 2022.
On a monthly basis, palaw prices have been decreasing for 6 months in a row from 116.4 manat in September 2021 to 77.4 manat in February 2022, and slightly increased again from February to March to 79 manat. Thus, the price difference between September 2021 and March 2022 is 32.2%. A similar pattern can be observed in the black market exchange rate between manat and USD for the same period. First, it has been declining steadily from September 2021 to February 2022 from 27.3 manat to 18.6 manat, then it increased slightly again from February 2022 to March 2022, reaching 19.6 manat. The total change between September 2021 to March 2022 is 28.4%. Therefore, we can observe how even small changes in the exchange rate can impact the prices of palaw ingredients.