June 2022: The price of palaw drops for the second time this year.
The average cost of cooking palaw in Ashgabat was 85.7 Turkmen manat in June 2022, which is 4% higher month-on-month compared to May 2022 (82.4 manat) and 13.4% cheaper year-on-year (YoY) compared to June 2021 (98.9 manat). This marks the second time when the Palaw Index sees deflation based on YoY in 2022, after the first time in April 2022 with a 14.2% decline. Due to the insufficient data for June 2021, we have received the permission and used the prices of palaw ingredients from the quarterly reports produced by HronikaTM for that date. Data for June 2022 was gathered by our Palaw Index team to produce this report.
Prices of all palaw ingredients except for rice have fallen in June 2022 on a year-on-year basis. Prices of carrots (-63%), sunflower oil (-45%), onions (-43%), wheat flour (-19%), and beef (-8%) declined YoY in June 2022. Rice prices, on the other hand, have gone up by 41% over the same period of time (see Figure 1).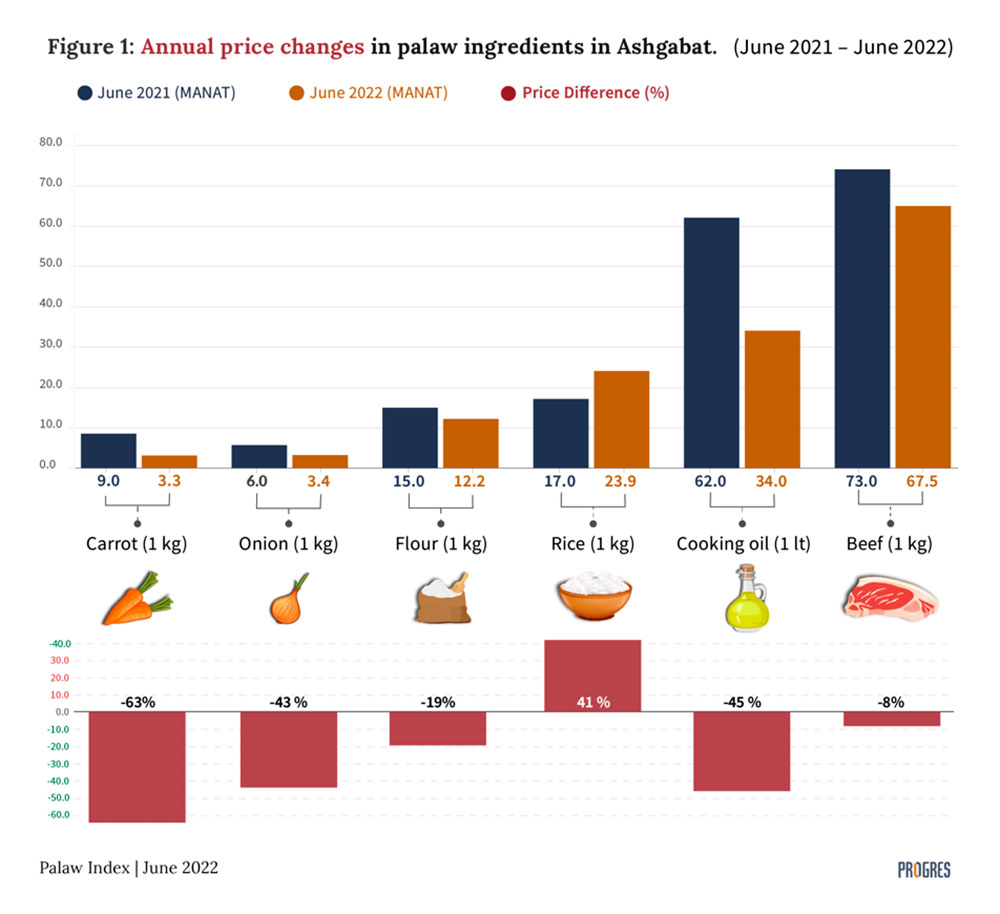 The black-market exchange rate makes a clear difference again
The value of manat against 1 USD in the black-market exchange rate averaged 33.5 manat last year in June 2021, while the average exchange rate was 18.7 manat in June 2022. This is a 44.3% decline. Sunflower oil, which is primarily imported from abroad (mainly from Russia) saw a price decrease of 45% between June 2021 and June 2022. Therefore, one can assume that the fluctuation in the black-market exchange rate made the biggest difference in explaining the lower price of sunflower oil sold in Turkmenistan. While Russia imposed export quotas for sunflower oil to be effective between April 15th to August 31st 2022, they recently lowered the export tax on sunflower oil in July 2022 to boost its exports.
 Another product that is primarily impacted by the exchange rate is wheat flour for which we collect prices of flour produced in Kazakhstan. Despite a 44.3% decline in the black-market exchange rate, Kazakstan's flour sold in Turkmenistan got cheaper by only 19%. The reason for such discrepancy is that wheat flour prices exported from Kazakhstan to Turkmenistan have risen by 9.2% as well. According to the latest available data on Energyprom.kz, Kazakhstan exported 19,600 tons of wheat flour to Turkmenistan for 7.3 million USD in April 2022 on a monthly basis, which is 130.3% higher in export volumes than a year before in April 2021. Last year in April, Kazakhstan exported 8500 tons of wheat flour to Turkmenistan amounting to 2.9 million USD.
Comparing the cost of wheat flour per tonne exported from Kazakhstan to Turkmenistan, it increased by 9.2% YoY from 341.2 USD per tonne in April 2021 to 372.4 USD in April 2022. Moreover, Kazakhstan imposed export quotas for wheat grain and wheat flour, which went into effect on April 15, and the quota was set at 300,000 tons for wheat flour. The export quota was extended again from June 15 to September 1, 2022. This might potentially lower the supply of flour exported from Kazakhstan to Turkmenistan and cause its price to increase in the upcoming months. Thus, if we account for the rise of flour prices in Kazakhstan, as well as quota-related obstacles, then it becomes clear why the price of Kazakh flour dropped only 19% despite a 44.3% decline in the black-market exchange rate.
Why did the price of rice increase?
Rice is grown in Dashoguz and Lebap regions in Turkmenistan because growing rice requires a large amount of water. These two regions are located on the shore of Amyderya river, which allows to cultivate and grow rice. The majority of consumed rice in Turkmenistan is domestically grown and only a small share is imported from abroad, mainly from India. Total imported rice in Turkmenistan amounted to 608,000 USD in 2020 (the latest year, in which data is available). Unfortunately, there is no publicly available data on exported volumes of rice from Turkmenistan.
When it comes to domestic production, Turkmen farmers harvested 82,400 tons of rice from 18,300 hectares area of land in 2021, which was exactly similar to the harvested amount of rice in 2020. Similar goals have been made for the calendar year of 2022, namely 82,400 tons of rice in an 18,300 hectares area. According to the US Department of Agriculture, annual rice production in Turkmenistan was 85,000 tons in the 2021/22 season. The 5-year average production of rice between 2017 and 2021 was 85,000 tons as well. Since production rates of rice have not changed over the course of recent years, consumption rates of consumers and/or exported volumes of rice might have increased. In those scenarios, due to higher demand, and supply remaining at the same rate, rice prices will go up. However, we do not have data on consumption rate of rice nor its exported volumes in Turkmenistan.
What about monthly price changes of palaw?
On a monthly basis, prices of palaw ingreients have been decreasing steadily from 116.4 manat in September 2021 to 85.7 manat in June 2022, which is a 26.4% decline. When it comes to the black-market exchange rate of the manat/USD, it declined from 27.3 manat in September 2021 to 18.7 manat in June 2022, which is a 31.8% decrease (see Figure 2).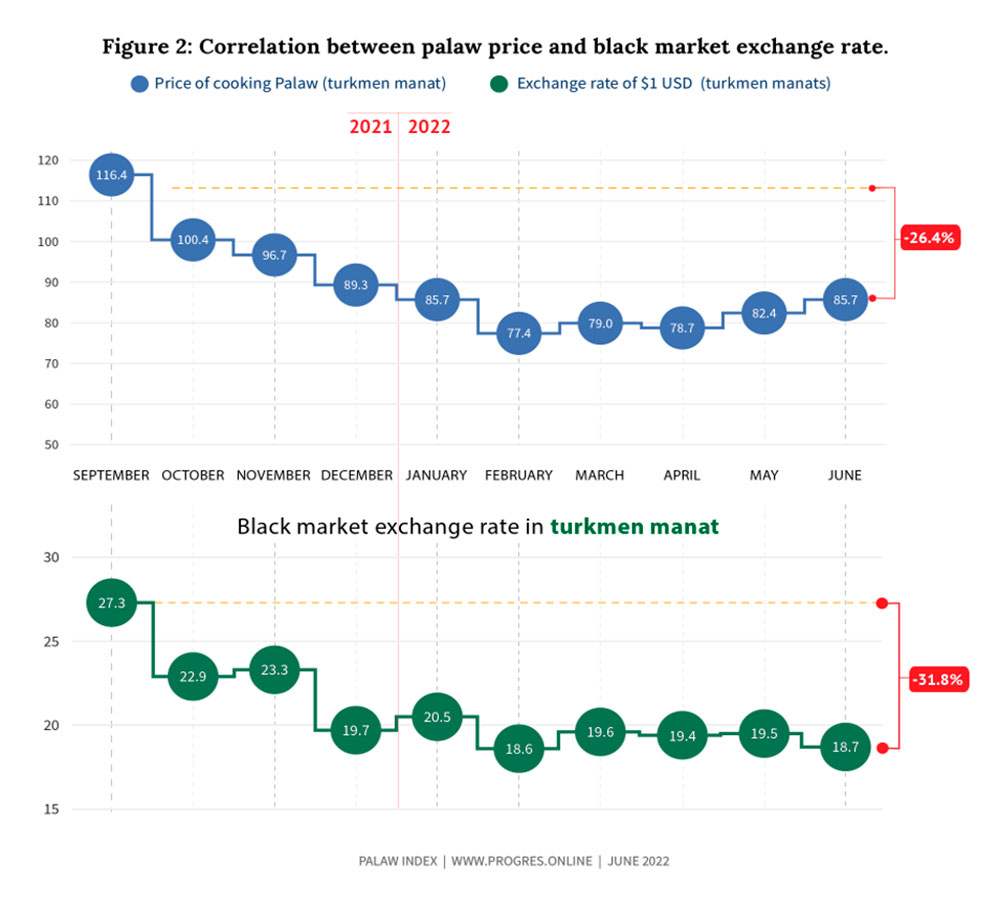 Methodology
Prices of ingredients in Palaw Index are collected for 1 kg of onion, carrot, beef, rice, and flour, and 1 liter of cooking oil. Based on the methodology, in order to cook palaw for a family of four, we use 0.3 liters of cooking oil, 0.5 kg of onion, 1 kg of carrots, 0.6 kg of beef, 1 kg of rice, and 0.5 kg of flour in our formula. The index includes the price of flour as well, which is used to make bread (çörek) as it is consumed with almost every meal in Turkmenistan. Please click here to learn more about the methodology of Palaw Index.
Dear reader, what could be the reason behind a 13.4% deflation (cheaper prices) in June 2022?