September 2022: The cost of palaw drops for the fourth month in a row.
Onions are seeing the largest drop in price on an annual basis at 45% decline.
The average cost of cooking palaw in Ashgabat was 84.9 Turkmen manat in September 2022, which is 2.5% lower month-on-month (MoM) compared to the prices observed last month (87 manat) and 27.1% cheaper year-on-year (YoY) compared to the prices in the corresponding month of the last year in September 2021 (116.4 manat). This is the fourth time in a row that palaw prices decline based on YoY after dropping by 13.4%, 9.1%, and 28.8% in June, July, and August 2022.
Similar to the trends of the last three months, prices of all palaw ingredients except for rice have fallen in September 2022 on a YoY basis. Prices of carrots dropped (-56%), onions (-45%), sunflower oil (-34%), beef (-33%), and wheat flour fell (-32%) YoY in September 2022 compared to September in 2021. The price of rice, on the other hand, has risen by 8% over the same period of time (see Figure 1).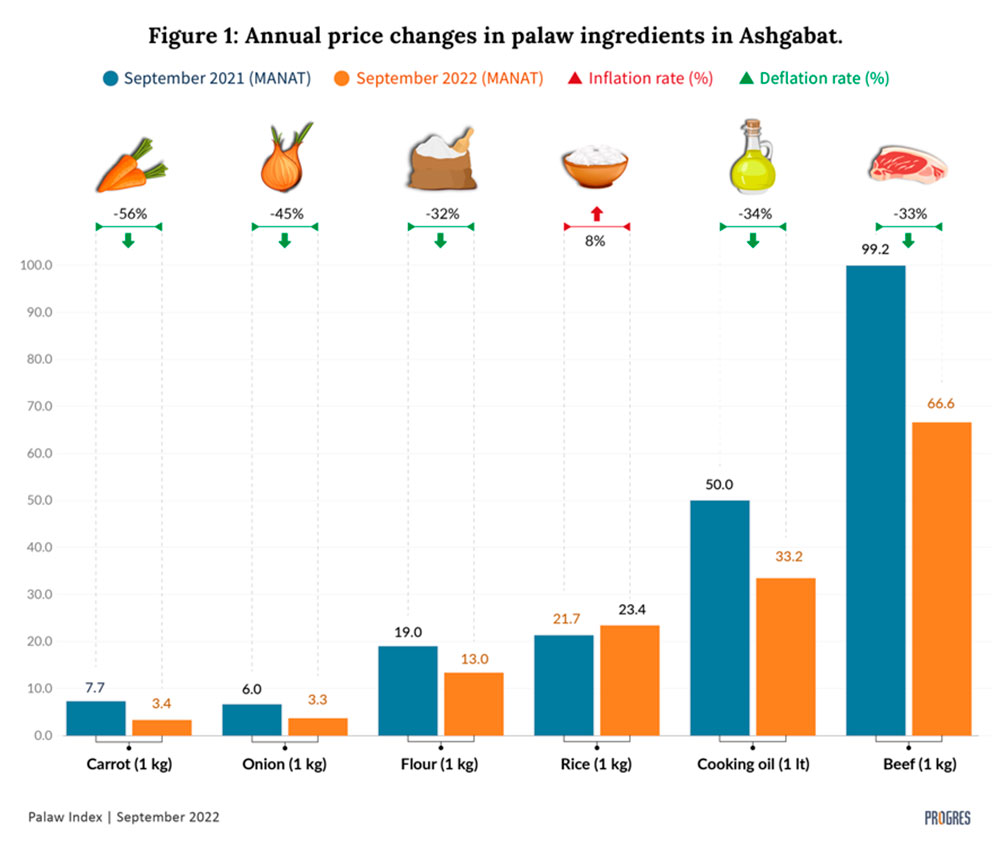 Carrot prices saw the biggest decrease of 56% YoY, and we have already explained the reasons behind this decline in our Index's July 2022 report. The next palaw ingredient which had the largest drop in price on an annual basis is onions with a staggering 45% decline. Therefore, in this report, we will try to identify the reasons behind the price declines of onions in Turkmenistan.
Onions are sown and harvested three times a year in Turkmenistan: in spring, fall, and winter with spring and fall onions having the biggest share in the total output. Historically, winter onions were planted for the first time in 2020 in the country, in the Dashoguz region. The allocated land area for winter onions was 1000 hectares out of 25,000 in total for onion plantations. The output gained from winter onions is significantly lower than from spring and fall onions. You can find changes in monthly onion prices in the country from 2020 to 2022 September in Figure 2 below.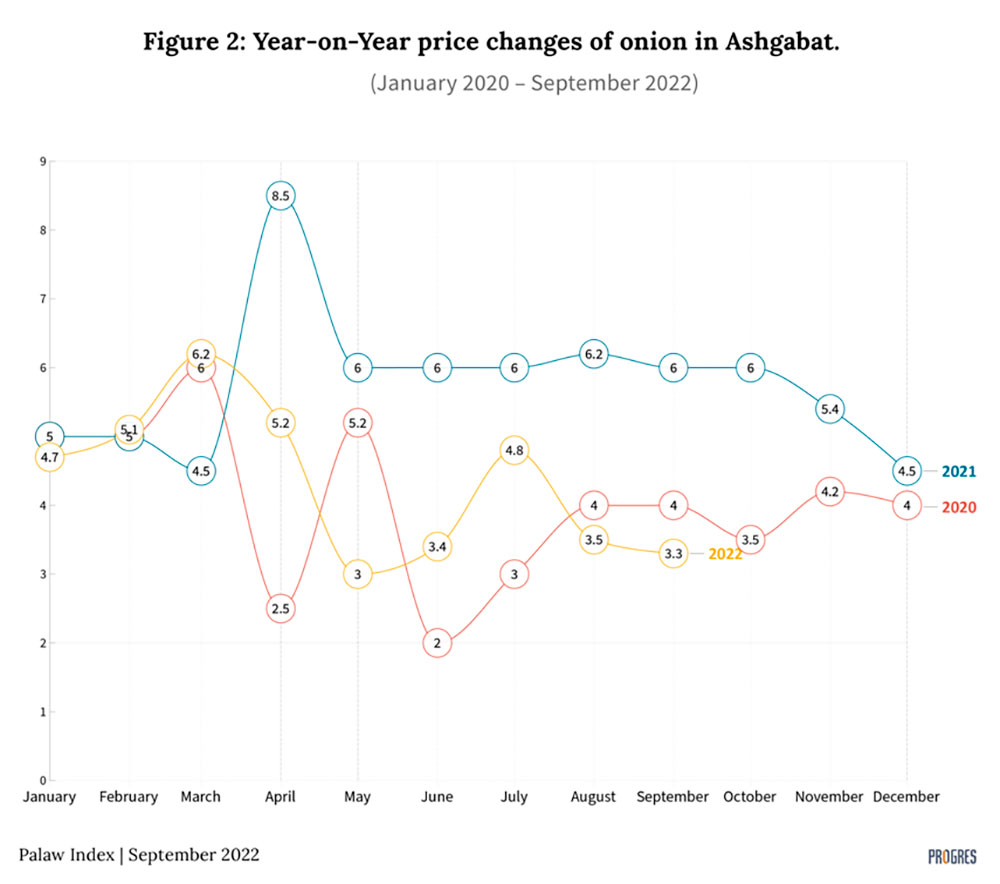 State Committee on Statistics of Turkmenistan does not publicly share the annual output of onion harvest in the country on its website. However, the production volumes are sometimes shared by national media outlets. In 2022, for instance, 25,000 hectares have been allocated for onion production in the country and the total harvested amount is expected to reach 250,000 tonnes for this year, reports Salam News. Media outlet Biznes Turkmenistan reported that 6000 hectares of land were allocated for onion production in the July harvest of 2021 with 250 centners of onion harvested per hectare. If we multiply the numbers, this will make 75,000 tonnes of onion harvest for the period. Biznes Turkmenistan claims that these numbers only derive from state-mandated production goals and do not include privately harvested onions. In 2020, the country reportedly harvested 95,000 tonnes of onion from 3800 hectares of land (Biznestm). Thus, the numbers shared for 2022 output is vastly higher than those for 2020 and 2021.
FAO's forecasted annual onion production for the country was lastly available for 2020 and it stood at 88,671 tonnes, which was 0.3% lower than the year before (88,906 tonnes). It is also 4.6% lower than the previous 10-year average production between 2010-2019, which stood at 92,947 tonnes. A significant increase in onion production in 2022 compared to the previous two years might have contributed to the cheaper price of onion this year due to the higher supply resulting from larger production.
The land area in which autumn onions will be planted has gone up significantly in the Dashoguz region in 2022, reports Turkmenistan Altyn Asyr. However, the outlet does not specify the exact amount of allocated land. In total, autumn onion planting areas cover an area of 1000 hectares in the Dashoguz region. Moreover, an arid climate is not good for growing onions and the state allocates more land to increase its production.
Imports
Turkmenistan did not import onions in any amount from CIS countries (Russia, Kazakhstan, Kyrgyzstan, Belarus, and Armenia) in 2021. Uzbekistan was the largest supplier of onion to Turkmenistan in 2020. 86.8% of total imported onion came from Uzbekistan in that year (the latest available data). Turkmenistan imported onions from Uzbekistan at a value of 2.23 million USD in 2020. In terms of the amount, Turkmenistan imported 12,900 tonnes of onion in 2020 and 19,500 tonnes in 2021 (from January to 15 October) from Uzbekistan. This will account for less than 8% of the total onion production in Turkmenistan (250,000 tonnes), which shows that the country does not largely depend on imported onion for consumption.
Turkmenistan used to import a lot more onion from abroad between 2015-2019 and the average imported value was 6.4 million USD for these years, which is 3 times higher than the imported value in 2020 and 2021. Iran was the largest supplier of onion to Turkmenistan during those years.
Exports
Turkmenistan does not export onions in large quantities. Total exported onion amounted to just 7,500 tonnes in 2019 and 205 tonnes in 2020. There is no publicly available information for 2021. One private Turkmen company exported 140 tonnes of onion to Kazakhstan in 2022, but there is no information on the total volume of exports for the whole year. Compared to the total annual onion production in the country (250,000 tonnes), exported volumes are insignificant to have any impact on the local supply of onions in Turkmenistan.
What about monthly price changes of palaw?
On a monthly basis, prices of palaw ingredients have been decreasing steadily over the last year from 116.4 manat in September 2021 to 84.9 manat in September 2022, which is a 27.1% decline. When it comes to the black-market exchange rate of the manat/USD, it declined from 27.3 manat in September 2021 to 19.5 manat in September 2022, which is a 28.7% decrease (see Figure 3).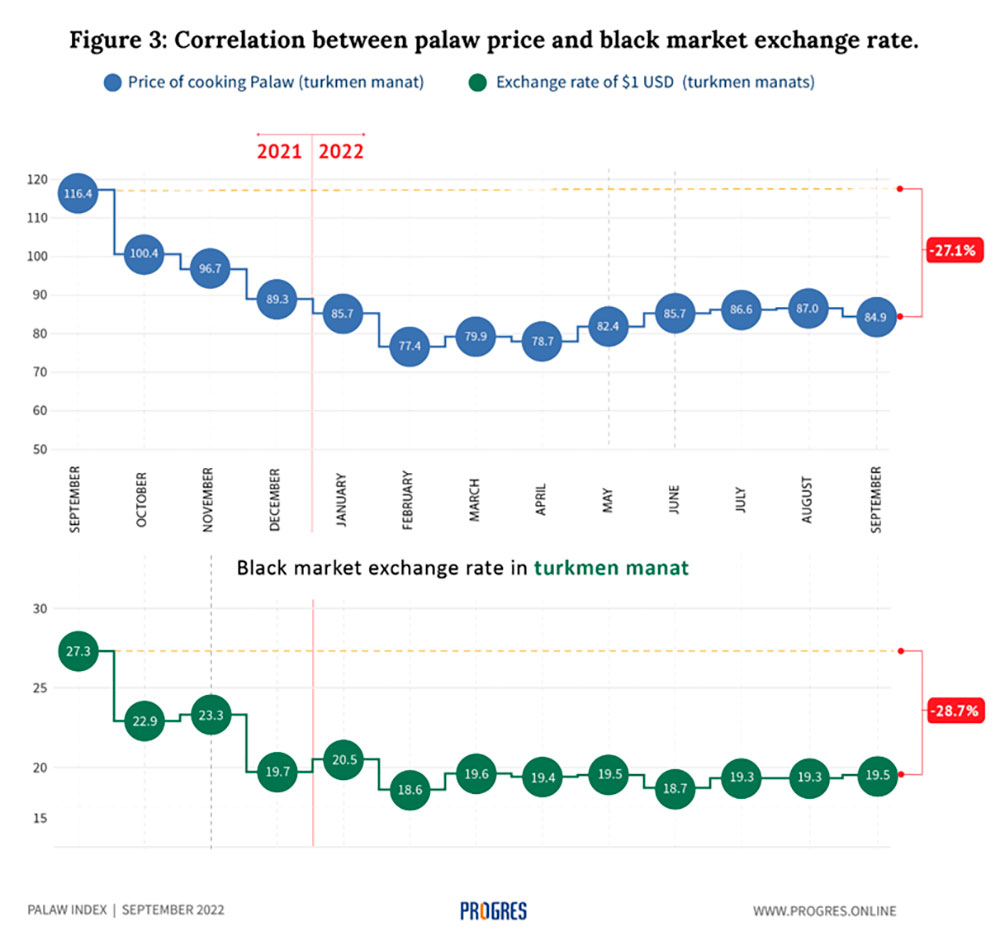 Methodology
Prices of ingredients in the Palaw Index are collected for 1 kg of onion, carrot, beef, rice, and flour, and 1 liter of cooking oil. Based on the methodology, in order to cook palaw for a family of four, we use 0.3 liters of cooking oil, 0.5 kg of onion, 1 kg of carrots, 0.6 kg of beef, 1 kg of rice, and 0.5 kg of flour in our formula. Please click here to learn more about the methodology of the Palaw Index.