Turkmenistan conducted its third population and housing census on December 17-27, 2022 with door-to-door visits using tablets for data collection. Since the results of the previous 2012 census have never been made public, citizens of Turkmenistan and the international community have limited trust in whether the government would release the full results of the 2022 census and if the results could be considered credible. The shared limited census data by the government looks like the "preliminary census results".
Turkmen government has not published official population data since 2006 when it was claimed to be 6.7 million people. According to the results of the 2022 census, Turkmenistan's population is 7,057,841 people. Gender is balanced with nearly 50% men and more than 50% are women. People living in urban areas account for 47.1% and those in rural areas are 52.9%.
Figure 1. Distribution of Turkmenistan's population across five regions and Ashgabat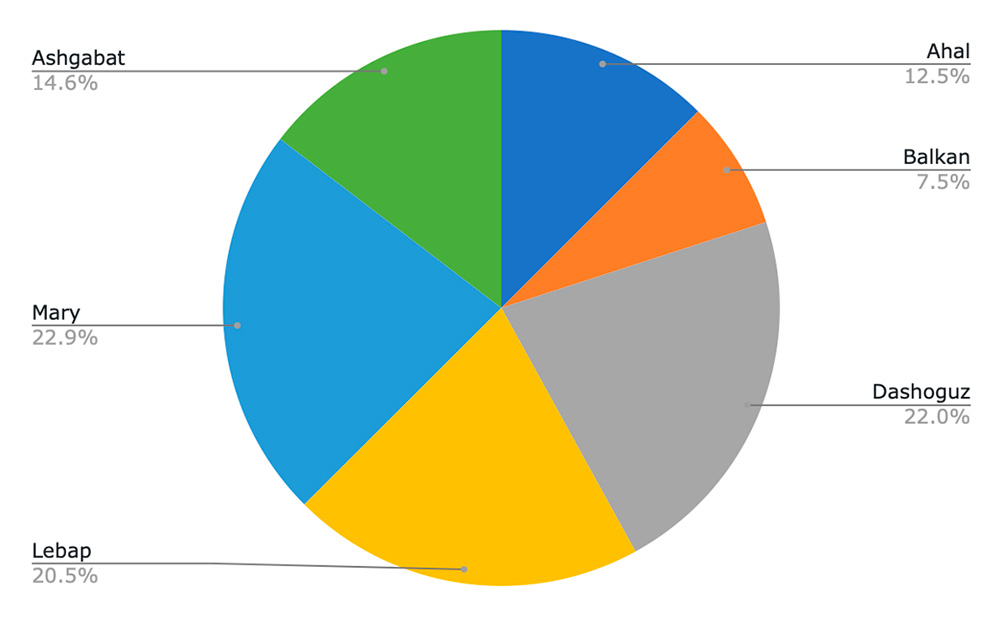 Source: The State Statistics Committee of Turkmenistan.
What are the concerns related to the census?
Unlike the previous censuses, the 2022 census seemed high on the government and UN agenda with a lot more efforts to increase visibility and public awareness. UNFPA was the main international partner of the government in preparing for and conducting the census. It organized two UN missions to Turkmenistan leading up to the census in April 2022 and December 2022. UNFPA was also supposed to assist the State Statistics Committee of Turkmenistan in the dissemination and use of census results for analysis and development programmes. While ahead of the census UNFPA was actively commenting on the importance of conducting the census and sharing the results with the public on their Instagram account, neither UNFPA nor other organizations made any public statements on how the census was carried out, how the results were disseminated or how trustworthy the census results are. UNFPA has only reposted the official video with census results on their Youtube channel but has not even added a video description. This may demonstrate that even international organizations, actively involved in the census process, question the reliability of these results and are reluctant to cite or share them publicly. We are yet to see if these same organizations will use official census results in their planning and reporting.
Meanwhile, according to the State Statistical Committee of Turkmenistan, independent newspaper and Progres.online there were some significant problems during the collection of census data such as:
technical failures when transferring the data from the regions to the central office (TurkmenStat).
difficulties with identifying addresses due to the lack of a unified address base (TurkmenStat).
labor-intensive and lengthy process to list buildings, residential premises and households, and to update maps of settlements due to its implementation in paper format (TurkmenStat).
low capacity and insufficient training of census takers as they did not adhere to generally accepted census guidelines and guidelines from UNFPA (Independent Newspaper).
widespread cases when census takers did not find household members at home and instead surveyed their neighbors about them (Independent Newspaper).
many households were visited by enumerators using pen and paper instead of tablet computers (Progres.online).
There are several concerns highlighted by Turkmen and international experts, and independent media outlets:
Only limited census results were made public – the State Committee of Statistics of Turkmenistan took six months to publish limited census results on their website. Meanwhile, UN experts visiting Turkmenistan said using tablets during the census will make collection, processing and publication of data faster, within a 3 months period. According to the globally-agreed Principles and Recommendations for Population and Housing Censuses, a census is considered complete when all elements have been fulfilled including – collecting, compiling, evaluating, analyzing, publishing and disseminating the data. However, even after nine months there is no information when and where citizens can access the full results of the census.
Concerns about the reliability of census data – Turkmen citizens, national and international experts and non-state affiliated media question trustworthiness of 2022 census data. According to Azatlyk, the preliminary or pilot survey ahead of the planned census on December 17–27, 2021 showed that 2.7 – 2.8 million people live in Turkmenistan. The official population number of over 7 million is big even when considering that the census includes foreign nationals and residents without a legal status in Turkmenistan.
Government does not address crucial concerns – the government has not published the results of 2012 census and 2021 pilot census and it did not provide any explanation. This has further negatively impacted Turkmen people's trust in and their view of their government. The government neither clarified how the census results align with reports of COVID19 restrictions, expired passports, nationals living in Turkey in legal limbo, labor migrants, high levels of emigration, demographic changes and the lack of basic information on mortality and birth rates.
No information about the cost of the census – given that census is a large scale, technically-complex and high expense exercise it requires sufficient budgeting and resource mobilization. However, neither the State Statistics Committee nor the national media reported on how much was spent on the census process and where this money came from.
Census questions were not made public – while the state media reported that the census consists of 53 questions related to gender, age, citizenship, place of birth, nationality, education, family composition, sources of income, living conditions, etc, they did not provide public access to these questions. The UN Statistics Division only provides a sample of the 1995 census questionnaire for Turkmenistan.
Lack of data on emigration – many people in Turkmenistan had to emigrate to Turkey, Russia or elsewhere in pursuit of employment and education opportunities. However, the government does not publish any statistics on the number of Turkmens who have left the country. Meanwhile, the census results show an increase in the number of population disregarding those who have temporarily or permanently have emigrated. For instance, RFE/RL reports that nearly 1.9 million people left Turkmenistan between 2008 and 2018 which is excluding Turkmen labor migrants working abroad. The government neither confirms or denies this estimate.
Lack of response from international actors – the UNFPA, which was the leading international partner, has not provided any public statement or reaction to the results of the census. The government has not published the results of the 2012 census and the preliminary census data collected in 2021. The government did not explain the reasons for not sharing the results with the public while the international actors, who have provided technical and financial support with conducting the census, remained silent. By choosing not to respond, international organizations are seen to be complacent with and supportive of the Turkmen government's policy on data sharing.
How many people might be actually living in Turkmenistan?
The population of Turkmenistan ranges anywhere from 2.7 million to over 7 million depending on who you decide to trust. Below are some estimates according to alternative and government sources:
While 2012 census data was not published, some references were made to it when presenting 2022 census results. It was reported that the total living area is 165,167,523 square meters which is 24.5% more than in 2012. Similarly, the average size of living space in 2022 is 23.8 square meters per person, which is 3% more than in 2012. Using these data we can calculate the total living area and the average square meter per person in 2012, which gives us a population size for 2012 as 5,741,370 people.
This means from 2012 to 2022 the population of Turkmenistan has increased by 23% or by 2.3% every year. However, according to the UN data Turkmenistan's population has been on decline, dropping from 1.8% population growth in 2013 to 1.4% in 2022. During these 10 years Turkmenistan's population increased, on average, by 1.6% a year (see Figure 2). This means the country's population in 2022 might be 6,659,989 people at best. This, however, does not take into account Turkmen nationals who have emigrated on a permanent basis, labor migrants who have been working in Turkey and Russia for several years or many Turkmen nationals who are residing abroad illegally. Given that there are many citizens of Turkmenistan who are still registered in their home addresses but no longer reside there, it is likely that the government counts them toward the country's population.
Figure 2. Average annual rate of population change (percentage) in Turkmenistan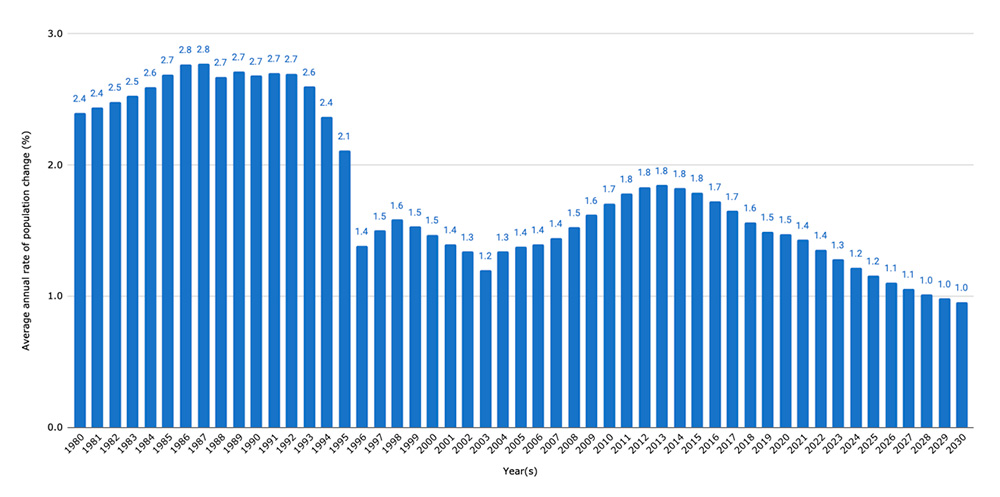 Source: UN Data.
While it is difficult to know the exact number of people living in Turkmenistan, given the secrecy around it, it is safe to assume that the country is experiencing a demographic decline caused by large-scale emigration, falling birth rates and rising mortality rates due to declining living standards. For instance, Radio Azatlyk reported that in 2019 the death count in Turkmenistan was between 5,000 and 6,000 a month while in 2020 it rose to 8,000 – 10,000 people. At the same time, the fertility rate in Turkmenistan has been consistently declining from 4.11 births per woman in 1991 to 2.58 in 2023, which is a decrease of 37%.
What is at stake if the government remains silent about the concerns with census?
Concealing the actual information does not serve anyone, especially the government and the people of Turkmenistan. First of all, inability to collect and publish accurate data shows incompetence of the government and erodes trust between a citizen and the state, and a citizen and the international community. The IMF and the World Bank refuse to use official government statistics in their reporting due to concerns of its accuracy.
Secondly, in the absence of accurate and disaggregated data the government is unable to understand societal needs and identify priority areas that require attention. By using inaccurate data, the government reinforces the practice of falsifying statistics in the lower levels of government as well as contributes to scientifically unsound policies, incompetent management and poor living standards for people. Reliable data helps the government prevent waste and ensure that public funds are directed where they can have the greatest impact.
Data-driven decision-making also allows the government to continuously monitor and assess the impact of its policies and make changes as necessary. Accurate, reliable and disaggregated data is the cornerstone of effective policy making. It will be worth observing if and how the international organizations and the government will use these results in their planning and development programs.