The cost of palaw in Ashgabat has increased by 54% in November 2021.
The average cost of cooking palaw in Ashgabat was 96.7 Turkmen manat in November 2021, which is 3.7% lower (100.4 manat) month-on-month compared to October 2021 and 54% higher (62.8 manat) year-on-year compared to November 2020.
All palaw ingredients except for carrots increased in price on annual basis: flour (105%), followed by cooking oil (85%), beef (70%), onions (28%), and rice (18%), (see Figure 1). Meanwhile, the price of carrots decreased by 18% compared to the previous year (November 2021).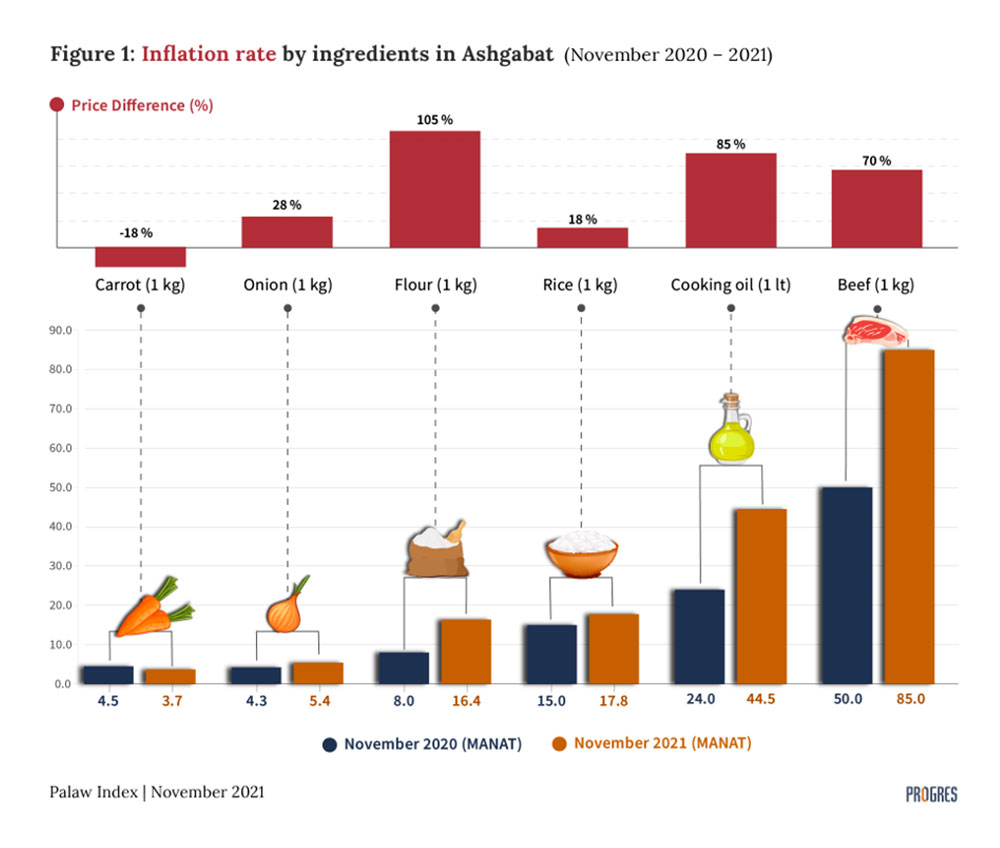 The highest price increase in November 2021 in ingredients was observed for the price of wheat flour, which rose by 105% year-on-year. This increase can be explained by two factors: declining domestic production and more expensive imports due to increased international prices and local currency depreciation.
Consumers in Turkmenistan mostly buy three types of flour: two types of domestically produced flour (Birinji sort, Ýokary hilli)) and high-quality Kazakh flour. According to the FAO, in 2021 the volume of imported wheat is forecasted to be 7.2% of annual consumption in Turkmenistan. This implies that big part of the consumed wheat in Turkmenistan is produced locally. Therefore, domestic production might have also contributed to the changes in the annual prices of wheat. Moreover, according to the FAO's forecast, the expected production of wheat in 2021 (1.1 mln tons) in Turkmenistan was 15.4% lower than 5-year average wheat production between 2016-2020 (1.3 mln tons) and 26.7% lower than estimated wheat production in 2020 (1.5 mln tons). Therefore, the decrease in domestic production of wheat put an upward pressure on wheat flour prices.
As to the international trends, flour prices rose by 10.4% in Kazakhstan in November 2021 year-on-year. In addition, there is an upward trend in wheat prices on international markets. According to FAO food price index, international wheat prices increased by 23.2% in November 2021 year-on-year. The price of wheat in international markets in November 2021 reached its highest price since 2011, indicating a significant increase in wheat prices. Wheat imports became more expensive as manat continued to depreciate against US Dollar. The average USD/manat exchange rate on black market from January to November of 2021 was 29.9 manat, which is 33.1% higher compared to the same period of time in 2020 (22.4 manat).