May 2022 Special Report: Palaw Index prices saw a slight increase.
The cost of palaw rises nearly 5 percent in May.
The latest data reveal that between April and May of 2022, the cost of cooking palaw in Ashgabat rose 4.7 percent, from 78.7 manat in April to 82.4 manat in May 2022. This month's report is produced based on month-on-month (MoM) inflation rates as opposed to year-on- year inflation rates due to the absence of data for May 2021.
MoM prices of individual palaw ingredients, specifically sunflower oil and onions, have decreased by 5% and 42%, respectively, while the prices of rice (23%), wheat flour (11%), carrots (6%), and beef (1%) have gone up (see Figure 1).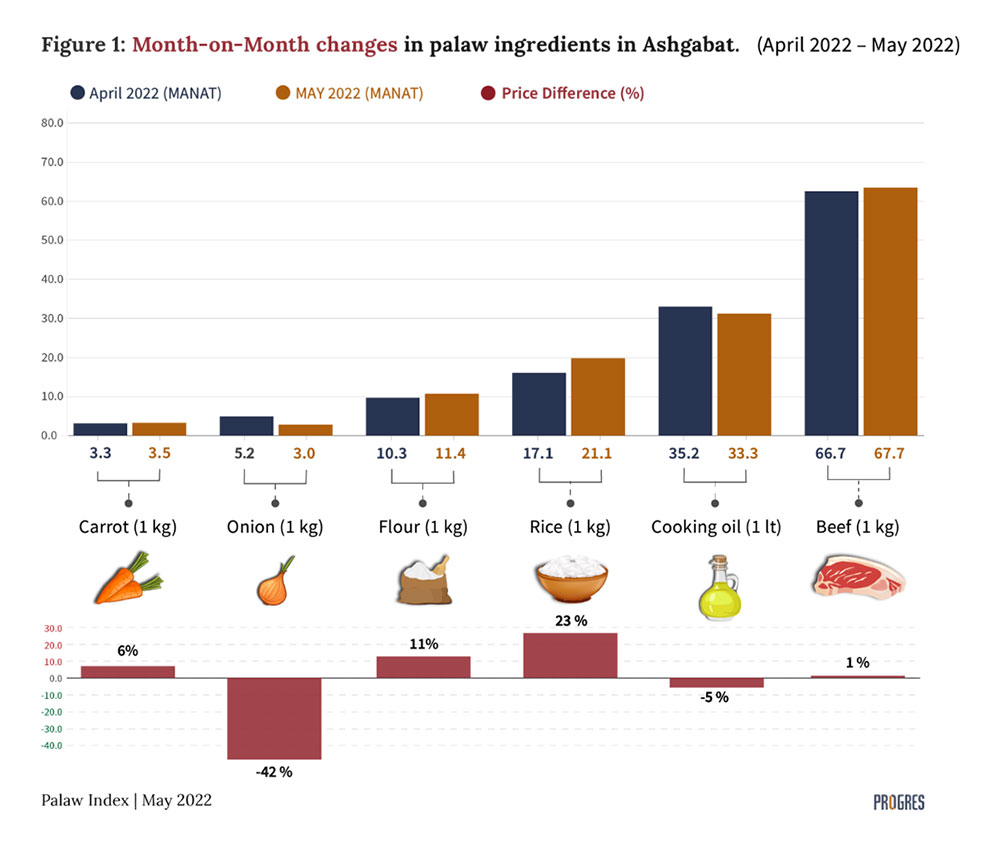 Significant changes in the prices of onions and rice
Prices of onion in Turkmenistan have fallen rapidly MoM from 5.2 manat in April 2022 to 3 manat in May 2022, which is a 42% decline. Such a rapid decline has been driven by the start of the harvesting season of onions in Turkmenistan in May 2022. This increases the supply of onions in the market and lowers their price. Another jump in prices was observed for the prices of rice on a MoM basis, which saw price hikes from 17.1 manat in April 2022 to 21.1 manat in May 2022, a 23% increase. Here again, the harvesting season makes a difference in the price increase of rice. Rice is usually planted in June and harvested in October in Turkmenistan. Therefore, price of rice went up ahead of its planting due to the low supply of rice in the stock.
What about the black-market exchange rate?
The black-market exchange rate has remained stable over the course of the last 6 months by fluctuating at around 19-20 manat to 1 USD. Since we started publishing our monthly reports in September 2021, the black-market exchange rate in Turkmenistan has declined from 27.3 manat to 19.5 manat, which is a 28.6% decrease. Over the same period of time, the palaw index has dropped from 116.4 manat to 82.4 manat (29.2% decrease).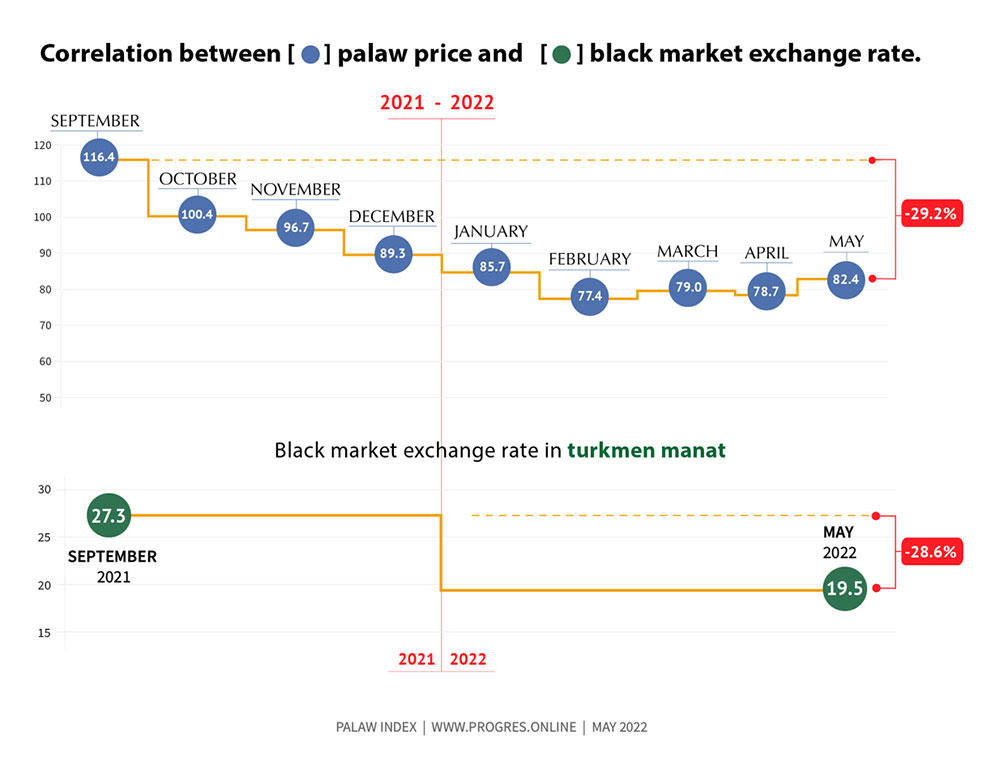 Methodology Prices of ingredients in Palaw Index are collected for 1 kg of onion, carrot, beef, rice, and flour, and 1 liter of cooking oil. Based on the methodology, in order to cook palaw for a family of four, we use 0.3 liters of cooking oil, 0.5 kg of onion, 1 kg of carrots, 0.6 kg of beef, 1 kg of rice, and 0.5 kg of flour in our formula. Please click here to learn more about the methodology of Palaw Index.