January 2022: The price of palaw reached 86 manat.
In January 2022, the average cost of cooking palaw in Ashgabat was 85.7 Turkmen manat, which is 4% cheaper month-on-month compared to December 2021 (89.3 manat) and 45% more expensive year-on-year compared to January 2021 (59 manat).
In January 2022, on an annual basis, prices for carrots and onions decreased by 38% and 6% respectively. Meanwhile, price increases were observed for all the remaining ingredients: flour (96%), beef (55%), rice (15%), and cooking oil (8%) (see Figure 1).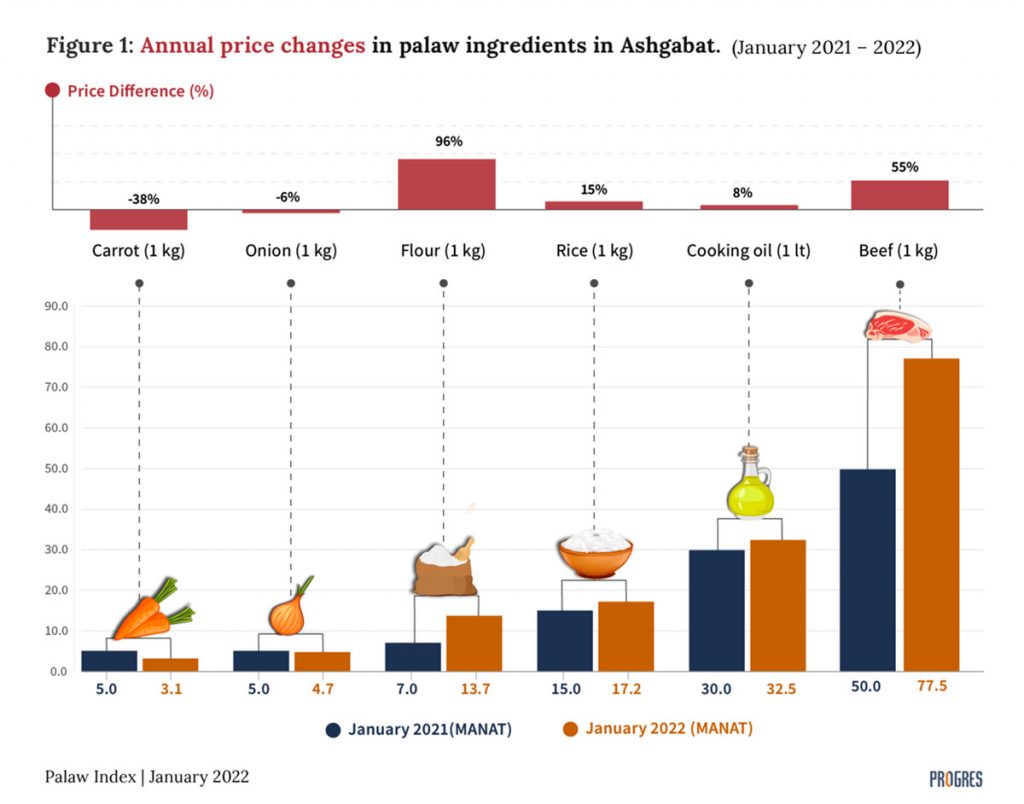 The average price of sunflower oil has declined from 41.6 manat in December 2021 to 32.5 manat in January 2022, which is a 22% decrease. Part of the reason for such a price reduction might have happened as a result of the "sahawatly söwda" (charitable trade) campaign in Turkmenistan that occurred right before the new year celebrations. The President Berdimuhamedov has encouraged business owners of food products to reduce the prices and this might have had some effect on price reduction of sunflower oil in Ashgabat in January 2022.
International food prices also exhibited an upward trend on an annual basis. In January 2022, the FAO's Food Price Index increased by 19.5% compared to January 2021. The January increase in the index was driven by strong increases within the all sub-indices: vegetable oil (33.8%), sugar (19.8%), dairy (18.7%), meat (17.3%), and cereals (12.5%). As a result of an increased seasonal supply from large harvests in Australia and Argentina, international wheat prices (product under sub-index of cereals) have declined by 3.1% month-on-month.
As for the month-on-month changes, palaw prices have been decreasing steadily for 5 months in a row from 116.4 manat in September 2021 to 85.7 manat in January 2022, which is a 26.4% decrease. Similar pattern can be observed in black market exchange rate for the same period. Average black market exchange rate was 27.3 manat in September 2021 and it has been declining steadily since then reaching an average rate of 20.5 manat in January 2022, which is a 24.9% decrease. Therefore, we can see a strong correlation between the black market exchange rate value and food prices in Turkmenistan.