The World Bank has published 2022 GovTech Maturity Index (GTMI), which measures digital transformation in the public sector. It is an average of 4 different indexes:
Core Government Systems Index (CGSI) captures the key aspects of a whole-of-government approach, including government cloud, interoperability framework and other platforms.
Public Service Delivery Index (PSDI) measures the maturity of online public service portals, with a focus on citizen centric design and universal accessibility.
Digital Citizen Engagement Index (DCEI) measures aspects of public participation platforms, citizen feedback mechanisms, open data, and open government portals.
GovTech Enablers Index (GTEI) – captures strategy, institutions, laws, and regulations, as well as digital skills, and innovation policies and programs to foster GovTech.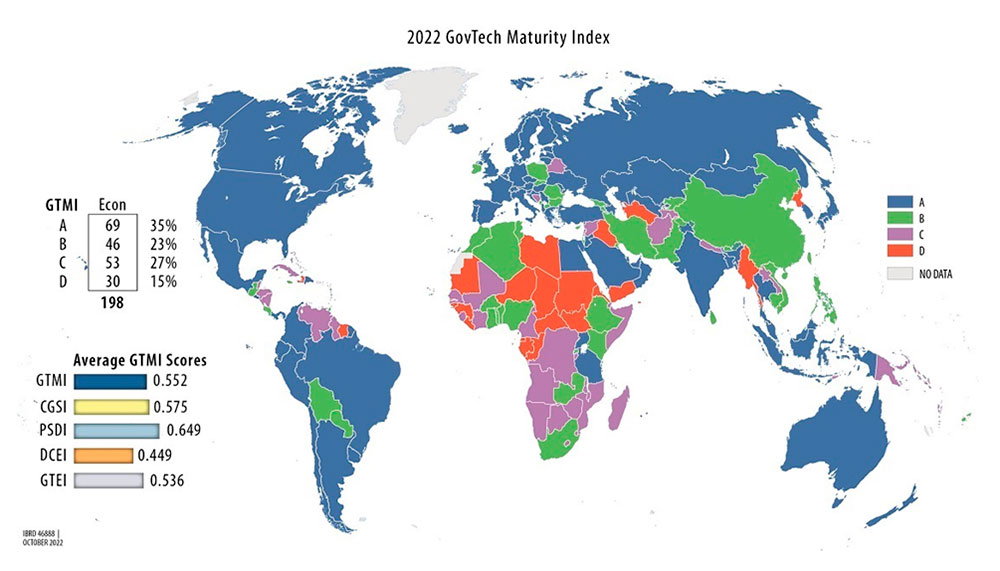 GTMI score ranges from 0-1 where higher numbers indicate higher digital maturity. The index assesses 198 economies and groups them into 4 categories (A to D) based on their average GTMI score:
A – GT Leaders with very high scores of 0.75-1.00;
B – Significant Focus with high score 0.50-0.74;
C – Some Focus with medium score 0.25-0.49;
D – Minimal Focus with low score 0.00-0.24.
Turkmenistan is in group D with minimal focus on digital transformation in the public sector. It is the worst performer in Europe and Central Asia region. Other Central Asian countries are as follows: Kazakhstan and Uzbekistan – group A, Kyrgyzstan – group B and Tajikistan – group C.
GovTech maturity is higher among high-income and upper-middle income economies. While Turkmenistan is an upper-middle income country, it belongs to group D, which includes the worst performers.
The report summarises key challenges faced by majority of countries such as widening digital divide, low digital citizen engagement and insufficient commitment at high government levels and financial resources.
Recommendations stemming from 2022 GTMI include:
Allocating adequate resources to reduce the gaps in digital public infrastructure, skills and governance;
Improving interconnectivity of existing systems and services;
Measuring and reporting the performance and use of existing digital platforms;
Developing multifunctional citizen participation platforms to deepen the citizen-government relationship, improve accountability, and build public trust in government;
Governments providing more incentives and financial support to GovTech startups/SMEs to encourage them to address public sector challenges;
Governments promoting the use of public data by establishing public data platforms that individuals and firms can access.