If you had one billion dollars what would you do about COVID-19 in Turkmenistan?
Reaction to SERP – Turkmenistan's immediate socio-economic response plan to acute infectious disease pandemic (SERP). This briefing note was prepared by Progress's collective of researchers.
As of October 16, 2020, Turkmenistan has not registered any cases of COVID-19. On 31 March 2020, the Turkmen government together with the UN Country Office developed the Country Preparedness and Response Plan (CPRP) on COVID‑19. Unfortunately, it is not available for the Turkmen public. It aims to implement preparedness and prevention measures and mitigate the social and economic impact of the outbreak in the country. Later, on 15 April 2020 the UN-Government joint working group (WG) on socio-economic impact of COVID-19 was set up in Turkmenistan. According to the news, the members include the national ministries and UN Agencies represented in Turkmenistan. There are no details of the WG, other than a short announcement in the news.
In April, the working group designed the Socio-Economic Response Plan (SERP), which is guided by the UN Framework for the Immediate Socio- Economic Response to COVID-19 and national priorities of Turkmenistan. The Plan consists of the below five areas, which are meant to help mitigate the negative impact of the global pandemic on the socio-economic situation in Turkmenistan. In total, 118 activities worth USD 1 billion are planned for the 6-18 months period with special attention on the most vulnerable groups of the population.
Figure 1. Total Financial Cost of the Plan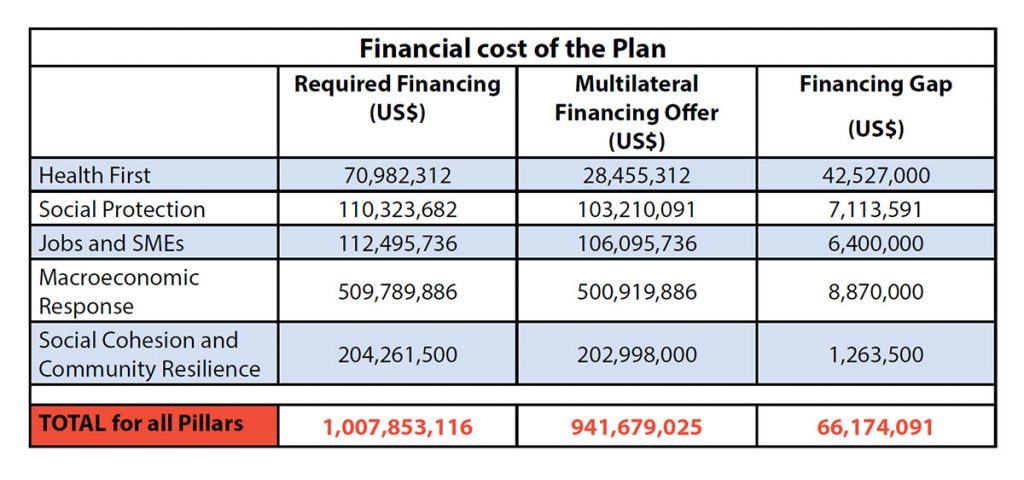 Source: The Socio-Economic Response Plan (SERP)
1. Improving the quality and access to essential health services
Measures under this pillar focus on safeguarding equal and sustainable access to health care services and on maintaining the capacity of the health care system. In total, 19 activities are planned toward these goals, of which multilateral financing covers 9 projects equaling to 40% of the total cost.
2. Ensuring social protection and basic services
This pillar includes measures related to maintaining food security and socially important goods, ensuring continuous and sustainable education for children and youth, and social protection of vulnerable groups. Here, total of 25 activities are planned where multilateral donors provide over 93% of the funding.
3. Protecting jobs, supporting small and medium enterprises (SMEs), and informal sector workers
In this pillar the main focus is on supporting and encouraging the development of SMEs and protecting jobs. In total of 23 activities are planned with multilateral funding covering over 94% of the expenses.
4. Macroeconomic stimulus and multilateral collaboration
Under this pillar, actions focus on promoting fiscal incentives and monetary stimulus, attracting investment, promoting exports, maintaining the stability of the financial sector and stimulating the economy. Total of 27 projects ate planned with multilateral institutions providing 98% of the financing.
5. Promoting social cohesion and community resilience
This pillar consists of measures aimed at ensuring universal respect for human rights, raising public awareness, strengthening local communities, enhancing the activities of public organizations and introducing sustainable methods and technologies to advance urban and rural social infrastructure. Here, multilateral donors cover 99% of the costs associated with implementing 24 activities.
The below table summarizes the five areas, funding requirements for each area, amount offered by multilateral donors and the missing sum.
Figure 2. National and International Donors and Their Contribution to Funding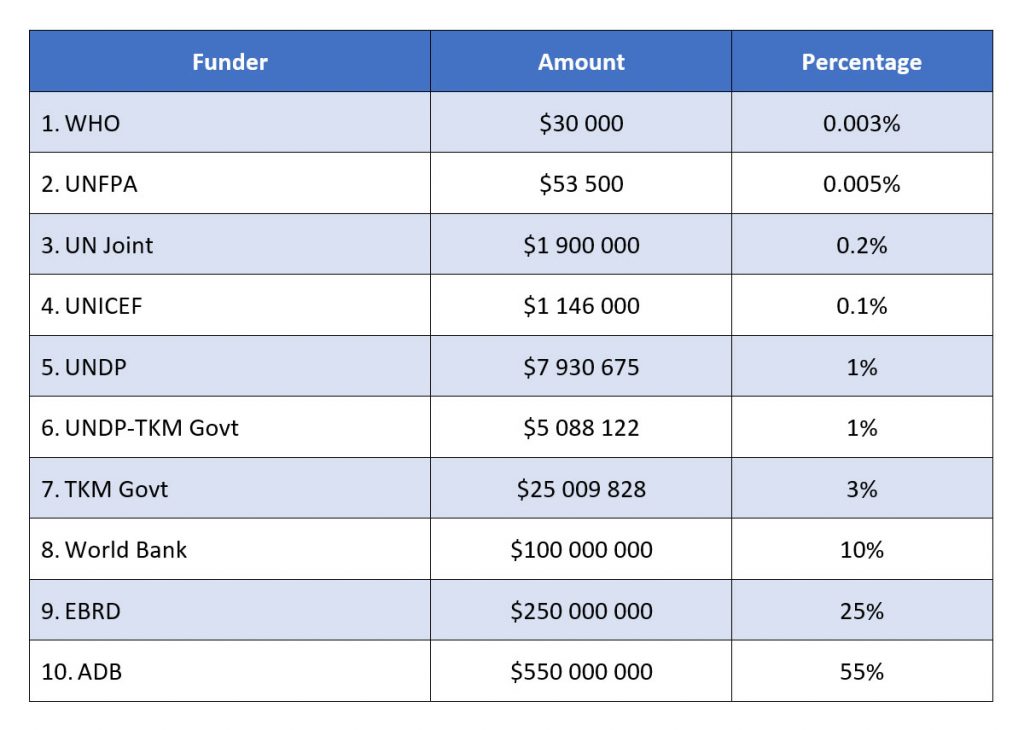 Source: Created by author using data from the report
Progress's Analysis
We have fully read the plan and highlighted major issues and questions arising from this plan. The goal of this analysis is to invite the authors of SERP and the Turkmen public to have a conversation on measures that are going to impact their lives directly.
Language and accessibility challenges: The Country Preparedness and Response Plan of Turkmenistan (CPRP) and Turkmenistan's Immediate Socio-Economic Response Plan to Acute Infectious Disease Pandemic (SERP) are not available in Turkmen language and not circulated among the public. Neither UN agencies nor Turkmen media outlets provide any details of these plans in the Turkmen language. For instance, Arzuw.news, which cites the plan, suggests its readers to check the full report linking it to an English language source. The plan should be publicly available in the Turkmen and Russian languages. People should be aware of the steps taken by the government and international organizations, as it helps them to stay informed and gives them agency to be a part of the process. It looks like Turkmen people, who are direct beneficiaries of these plans, must speak English to understand international organizations' work in Turkmenistan.
Unclear conditions for receiving funding: As this report suggests, 70% of the required funding, which is USD 700 million out of USD 1 billion, will come in the form of loans from the Asian Development Bank (ADB), the European Bank for Reconstruction and Development (EBRD) and the World Bank (WB). The biggest financier is the ADB, which alone accounts for 55% of the required funding to implement SERP (Figure 3). Since most of this funding is provided as a loan, as opposed to grants, it might require interest payment. However, it is unclear if this funding has an interest rate, what are the terms of borrowing and when the loan should be paid back. For instance, the Turkmen government will request USD 500 million from the ADB to 'finance priority budget expenditures.' But what are these priority expenditures and how are they going to be spent? Similarly, the ADB and EBRD will provide USD 100 million in loans to support SMEs in Turkmenistan. However, it is not clear who will be in charge of repaying these loans, how exactly they will be allocated to SMEs and in what ways SMEs will be supported? The World Bank will also provide USD 100 million in loans to support agricultural producers. Here again, it is unclear how agricultural producers will be supported exactly?
Figure 3: Major Donors and Percentage of Funding Provided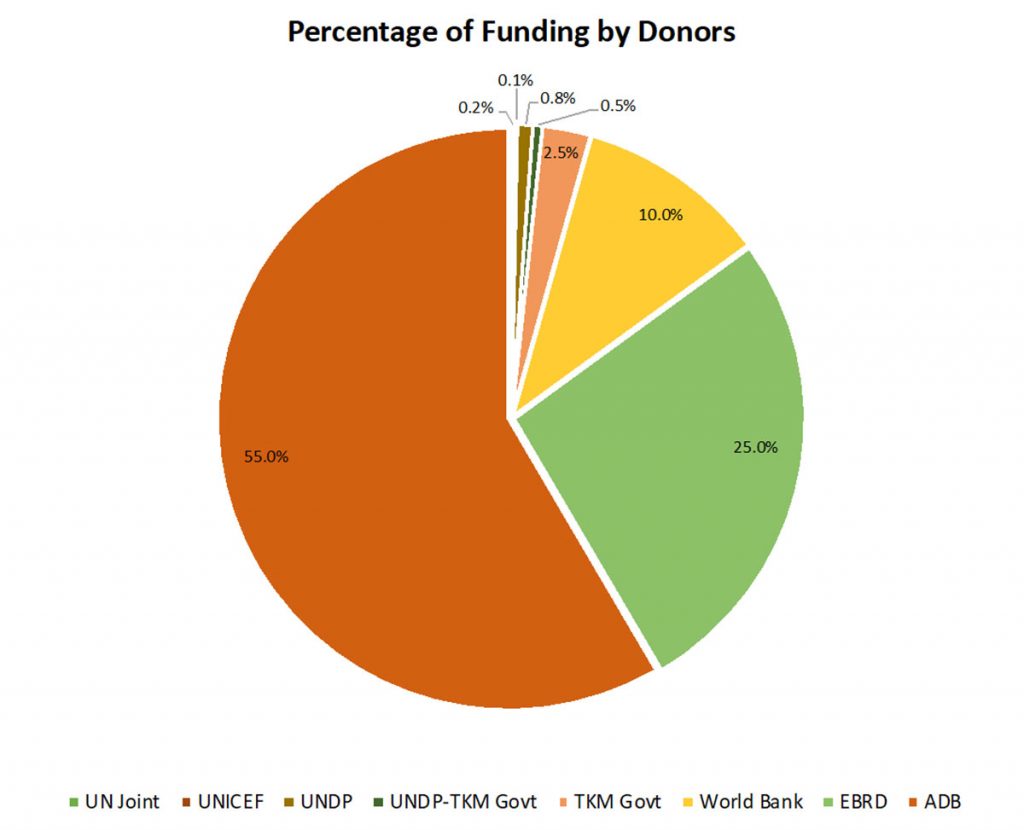 Source: Created by author using data from the report
Spending money where it is needed the most: As the report suggests, 52.1% of total household expenditures in Turkmenistan constitute expenses on food. If this is the case, why not to provide monthly cash transfers and unemployment benefits to those who lost their livelihoods during the pandemic. For example, in the past several months of the pandemic Kazakhstan distributed food packages and reimbursed utility bills for disadvantaged groups, provided monthly payment of USD 94 to those who lost income and paid out 40 percent of their previous salary to those who lost their jobs. Moreover, money could be spent on the immediate needs of the healthcare system. For example, conducting more testing, providing more protective gear to medical personal, buying necessary laboratory equipment and supplies for testing COVID-19, training medical staff or technical assistance for health checks at the border as it is done with the help of international financing in other Central Asian countries.
Lack of relevant and reliable data: The fundamental problem with this plan is the absence of relevant and quality statistics. It is an international best practice to base decisions on evidence, especially those that affect the health and wellbeing of millions of people. For many, the current pandemic is life and death situation. It is hard to understand how UN agencies and the government decided on these specific actions and financial investment in the absence of data related to the actual socioeconomic costs or public needs caused by the pandemic. For instance, what percentage of businesses were negatively influenced or how many people lost their jobs due to the pandemic?
Lack of public data on state budget and spending: The report mentions that "since 2007, the government of Turkmenistan allocates at least 70 percent of the state budget expenditure on social sector, including health, education, social protection, culture and housing." However, public does not know what are the state budget figures? What does 70% mean in real monetary terms? 70% of what amount? Why is it 70% and what is it spent on exactly? It would be helpful to know the distribution of these expenditures and the list of all relevant projects. The report also mentions shrinking revenues from exports and taxes, but does not specify the exact amounts. How much does Turkmen tax office collect in revenues each year and how is it effected due to the current pandemic? The report notes government's intention to reduce non-priority expenditure, but does not specify which exact areas these cuts will affect.
Unclear outcomes and timeline: The plan mentions in total of 118 activities with a cost of USD 1 billion. However, it is unclear what exact outputs will be achieved or were achieved since the program was launched. Also, the plan suggests that these activities will be implemented within 6-18 months period roughly from July 2020 – December 2021, but there are also activities that are scheduled to take place 'immediately' or at least from June. So, it is unclear which are the exact start and end dates for each of these projects. According to the general timeline the document provides, first activities took place as early as June 2020. So, there must be some results achieved in the last 4 months and it would be helpful to know those.
Lack of urgency and relevance: While it is a good idea to link these actions to long-term socioeconomic priorities of the country, it is also necessary to take immediate and relevant action and to reprioritize country's resources to support the Turkmen public. Most of the suggested activities are generic and long-term and not specific to the immediate needs caused by COVID-19 pandemic. The title of the report does not even mention COVID-19 by its name, while keeping it broad as 'acute infectious disease'. We are dealing with a very specific disease and its impact on the health and wellbeing of people. This is an urgent matter that needs immediate action taken by the relevant actors, and there should be no space for ambiguity or generalization.
Absence of epidemiological reports on COVID-19: Given that many countries are experiencing a second wave of the virus, there has to be more testing, contact tracing and public education on COVID-19 in Turkmenistan, just like in other Central Asian countries. These are immediate needs, which require most of the attention and government spending. Is Turkmenistan testing its people for the virus at all? How many tests do they conduct daily? Which healthcare units provide testing? How is testing made available to the most vulnerable groups? Also, it is hard to build social cohesion and community resilience in the absence of trust and reliable public information. There should be more emphasis on educating the public in the Turkmen language. Government and international actors involved should regularly update the public on the progress made as well as on what assistance is available to them and how and where they can request help.
Absence of public accountability mechanism: It is crucial to monitor and evaluate programs, especially of this size and importance. Implementing actors should regularly report to the Turkmen public with clear deadlines and results to be achieved and progress made towards them. A panel of independent observers, made of civic individuals, experts, academic and civil society representatives should track progress on each of the five pillars to ensure effective implementation and efficient use of scarce resources.
Vague description of financing and program activities: The plan does not mention how exactly this USD 1 billion will be used and what are the restrictions for its use. Can this money cover salaries for government officials involved with implementation of the plan? Who is in charge of handling this money? What are the measures taken to ensure transparency and accountability in spending this money? Or even, how did the Working Group come up with these numbers? In the absence of data on the impact of the virus, infection rate, economic costs, number of unemployed, percentage of businesses shutting down, and etc. how can one decide what actions to take and how much to spend on those actions?
Need for external funding: While Turkmenistan is an upper-middle income country, as highlighted in the plan, and has exchange reserves worth USD 19.7 billion (equivalent to 44 months of export as of 2018), it still requires international financing to mitigate negative socioeconomic consequences of the pandemic. Why does country with such wealth require financial assistance from international donors? Where are the foreign exchange reserves kept and are, they readily available to be used for public good?
Overall, in the absence of reliable data and public education, people are more likely to spread misinformation, which might lead to negative consequences such as self-treatment, ignorance or downplaying the health risks of the virus and other non-health related risks. There are claims that Turkmen people are avoiding medical checkups, even in the presence of COVID-19 symptoms due to the lack of trust in the health care system of the country. Recently, President Berdimuhamedov signed a law that criminalizes avoiding treatment for dangerous infectious diseases which entered into force from 22 August 2020. The imprisonment term varies depending on the offense from 2-5 years. Instead of criminalizing people's lack of knowledge, government should instead inform and educate public and incentivize them to take precautionary measures and seek out medical support, when necessary. Turkmen public is generally unaware of when and how to seek assistance or what kind of support is available to them.
Moreover, the lack of preparedness to global pandemic makes it difficult for Turkmenistan to swiftly respond to public health emergency and take the necessary medical countermeasures to ensure health and wellbeing of its people. For instance, on the Global Health Security (GHS) Index, which measures country's preparedness to health emergencies, Turkmenistan scored 31.8 out of 100 and it is among 'the least prepared' countries. It has the worst indicators among Central Asian countries and ranks 135 out of 195 countries.
What is your opinion on this action plan? What policies and interventions would you suggest to the government and international actors to mitigate and minimize the negative socioeconomic costs of the pandemic on your life? How would you spend one billion dollars to ensure every person in Turkmenistan is taken care of and supported?