The World Bank published a blog post titled: For faster growth, Central Asia must confront biased perceptions about the value of women's work. It shares the findings from the Listening to Central Asia survey, where members of thousands of households in Kazakhstan, Kyrgyzstan, Tajikistan and Uzbekistan have been interviewed. Authors highlight the persistent challenge of gender-pay gap where working women earn about 60% of what men earn in Tajikistan, 61% in Uzbekistan, 75% in Kyrgyzstan, and 78% in Kazakhstan.
The survey reveals how prevalent are the restrictive gender norms and expectations that discourage women's equal and full participation in the labour market.
Over two-thirds of respondents across Central Asia said that women should prioritize caregiving and home duties over having a job, while men should be the primary breadwinners (see Figure 1).
Between 20-50% of respondents also said that married women should make less money than their husbands to maintain family harmony. This belief was relatively consistent across urban and rural households.
Over 70% of respondents in Central Asia think that women should spend less time working to dedicate her time to home tasks.
34% of respondents in Uzbekistan, 42% in Kyrgyzstan, 20% in Kazakhstan and 51% in Tajikistan think that women should earn less than men to sustain peace in the family.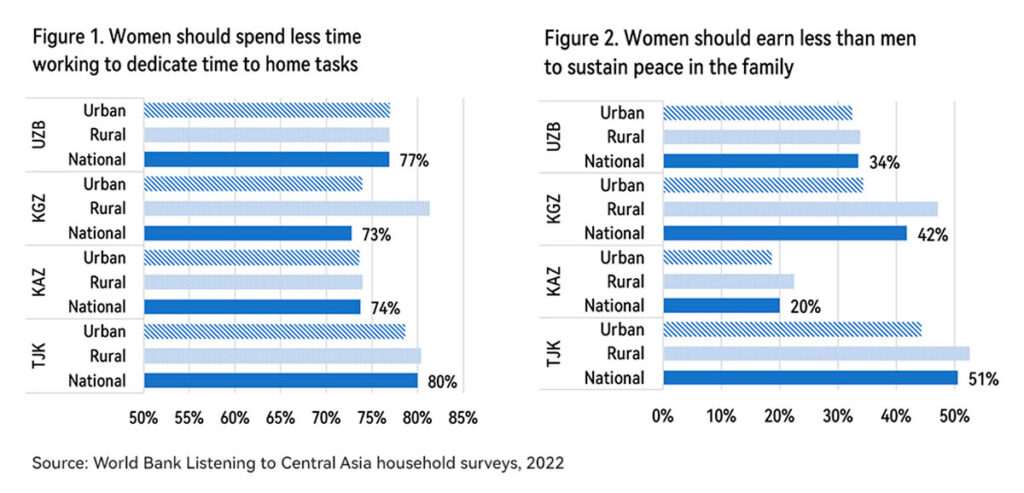 To examine whether gender imbalances were due to individual preferences or structural barriers that limit women's access to opportunity, the research team conducted two experiments.
In the first experiment the team crafted short stories describing a person's occupation and their wage. The stories were identical to each other with one exception – in half of these stories, the worker's name was female, and in the other half it was male. More than 70,000 respondents were asked if they thought the person described was underpaid, fairly paid, or overpaid. Respondents were 13% more likely to say wages were 'too high' when the subject of the story was a woman, and 34% more likely to say they were 'too low' when the subject was a man (see Figure 3). These results point to a systematic discrimination against women.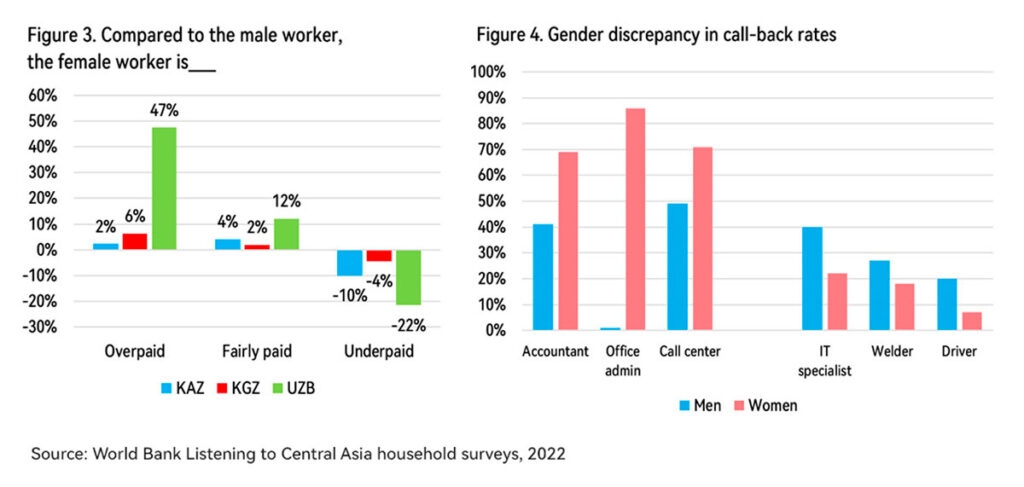 In the second experiment researchers examined discrimination in the hiring process. They sent fictitious resumes to hundreds of real job advertisements in Uzbekistan. Resumes were identical except for a single detail – half of them used a female name. For a woman to get invited for an interview as a driver she would have to submit 180% more applications than a man. For a man to get a call back for an office manager role, he would have to send as many as 685% more applications than a woman candidate (see Figure 4). These experiments demonstrate that deeply rooted social norms lead to unequal economic outcomes and limit opportunities for both men and women.
Why does gender pay gap matter?
Countries with greater gender equality also enjoy higher national income per person, and faster economic growth. However, in Central Asia women struggle with low employment and low wages which shrinks the national economy and increases the rate of poverty. If women across Central Asia were to have equal opportunities as men, national income would be higher anywhere from 27% in Kazakhstan to 63% in Tajikistan. Having equal average wage among women and men in Uzbekistan, would uplift more than 700,000 people out of poverty.
How to address gender-based discrimination in Central Asia?
There has been some progress toward removing gender-based biases in Central Asia. In 2022 Uzbekistan was first in Central Asia to require an equal pay between men and women for work of equal value. In 2021, Kazakhstan lifted restrictions on "banned professions" where women were previously not permitted to work.
Nevertheless, more needs to be done to reverse the social norms that perpetuate gender imbalances in work and pay. Governments should remove legal barriers to equality while employers, workers, governments, and the public at large should challenge the widespread misperceptions about the role and the value of women's work.